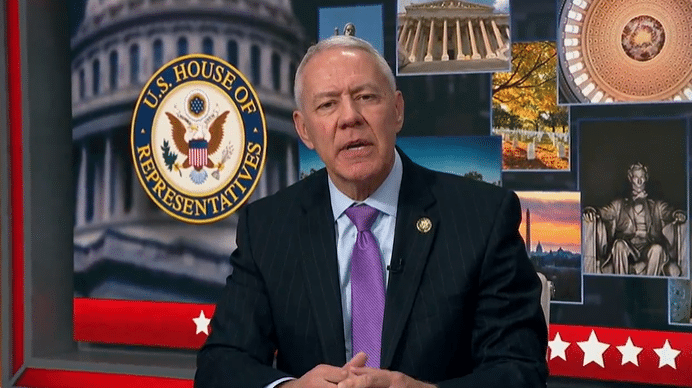 RINO congressman Ken Buck, representing Colorado's 4th congressional district, has revealed his decision not to seek re-election.
Buck, who has held his congressional seat since 2015, conveyed this news through a video statement released on Wednesday. In his announcement, he pointed to his growing frustration with the Republican Party's current trajectory. He specifically referenced what he perceived as a lack of honesty among GOP leadership regarding the 2020 election and the incidents that unfolded at the Capitol on January 6th, 2021.
"After careful consideration and much prayer, I have decided not to seek a 6th term in the US. House of Representatives," said Buck. "To the people of Colorado's Fourth Congressional District, thank you for sending me to Congress. I'm grateful for your support."
"As we have fought against the left's policies that have had real-world consequences: defunding the police, politicizing student loans, provoking inflation with excessive spending, creating open borders, decimating our domestic energy production. Americans are rightfully concerned about our nation's future and are looking to Republicans in Washington for a course correction. But their hope for Republicans to take decisive action may be in vain. Our nation is on a collision course with reality and a steadfast commitment to truth," he added.
Buck strongly criticized his fellow Republicans, condemning them for promoting what he claims are "insidious narratives" that foster skepticism and undermine the American people's trust in the legal system.
A primary focus of Buck's criticism was the claim that Republican leaders are "lying" about the 2020 election being rigged and stolen.
Additionally, he voiced disapproval of the GOP's portrayal of the events that occurred on January 6 at the U.S. Capitol, dismissing them as an "unguided tour."
"Too many Republican leaders are lying to America, claiming that the 2020 election was stolen, describing January 6 as an unguided tour of the Capitol, and asserting that the ensuing prosecutions are a weaponization of our justice system."
"These insidious narratives breed widespread cynicism and erode Americans' confidence in the rule of law. It is impossible for the Republican Party to confront our problems and offer a course correction for the future while being obsessively fixated on retribution and vengeance for contrived injustices of the past."
Watch:
Earlier today I announced that I won't be seeking re-election to the U.S. House of Representatives.

To my friends in Colorado, thank you for allowing me the opportunity to serve our nation. Being your representative in Washington DC has been the highest honor of my life. pic.twitter.com/FQdPVbpH46

— Rep. Ken Buck (@RepKenBuck) November 1, 2023
In an interview with far-left MSNBC, Ken Buck announced, "I'm not going to seek re-election. I'm disappointed that the Republican party continues to rely on this lie that the 2020 election was stolen."
Watch:
Ken Buck is so triggered by MAGA he's quitting Congress:

"I'm not going to seek re-election. I'm disappointed that the Republican party continues to rely on this lie that the 2020 election was stolen." pic.twitter.com/J6Q93Mg1e6

— Citizen Free Press (@CitizenFreePres) November 1, 2023
Ken Buck voted against Jim Jordan for House Speaker. He openly admitted to supporting Tom Emmer instead, admitting that he only voted for Emmer because he doesn't like him and wanted him to have a horrible time as Speaker.
Earlier this month, Buck found himself evicted from his primary office in Colorado due to his refusal to vote for Jordan. Notably, the property's landlord happens to be associated with a major GOP donor.
Buck disclosed to NBC News, "I've been evicted from my office in Colorado — I have a notice of eviction — because the landlord is mad with my voting record on this speaker issue."
As a member of the conservative House Freedom Caucus, Buck claimed that there is no evidence connecting Joe Biden to a "high crime or misdemeanor," and consequently, there are no legitimate grounds for impeachment.
Buck further emphasized, "The time for impeachment is the time when there's evidence linking President Biden -if there's evidence linking President Biden- to a high crime or misdemeanor, that doesn't exist right now, and it isn't really something that we can say, well, in February, we're going to do this. It's based on the facts. You go where the facts take you."
Buck pointed out that his stance against impeachment does not signify softness toward the current administration. Rather, it reflects a strategic decision to prioritize addressing the most urgent matters. He contended that discussions of impeachment were diverting attention from the genuine challenges confronting the United States today.
Good riddance.