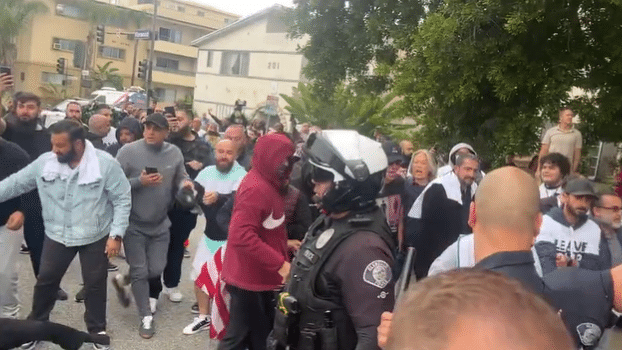 Fed up with LGBTQ/pride events taking place in their children's elementary schools, a group of Armenian fathers beat the crap out of Antifa and pro-trans leftist protestors outside of a school board meeting in Glendale, California Tuesday evening.
Glendale is known for its large Armenian-Christian population, and like most Americans they are fed up with their children being exposed to LGBTQ/pride events.
According to CBS News, 50 police officers were deployed to break up the massive brawl that erupted around 6 pm local time.
Watch:
Not surprisingly, the police sided with Antifa and the leftist protestors.
Watch:
In the video below, shared by Andy Ngô, Glendale police can be seen rushing in to save the Anifa and leftist protestors from the Armenian dads.
Watch:
It will be interesting to see if these brave Armenian American fathers' homes are raided by Biden's weaponized FBI for not standing idly by and watching their children's schools to be infiltrated by radical far-left agendas.