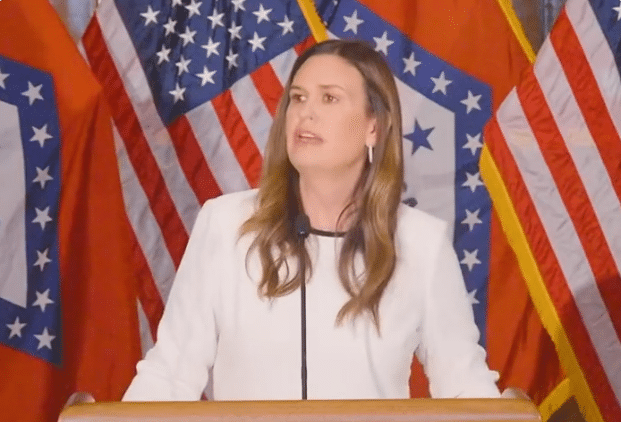 During a recent press conference, Governor Sarah Huckabee Sanders (R) took a stand against COVID-19 restrictions, declaring that Arkansas would not revert to a COVID-19 lockdown or impose mask and vaccine mandates on its residents. Governor Sanders underscored the significance of personal liberty and freedom in shaping decisions regarding health and safety.
"We also have to be sure that government never again tramples on our liberty like it did during the COVID-19 pandemic," said Sanders during a press conference. "Back then, a handful of bureaucrats shut down our schools, our churches, our businesses, enforced masks on our kids, and tried to implement vaccine passports. That will not happen again here in the state of Arkansas."
To highlight her administration's stance, the Governor disclosed that she had already repealed a number of COVID-19-related executive orders. Furthermore, she announced a ban on COVID-19 vaccine mandates for all employees of the Arkansas state government.
"When I took office, I repealed a long list of executive orders related to the pandemic. Now we're going further and banning COVID-19 vaccine mandates for all Arkansas state employees. And our state department of health will publicize the potential risks related to the COVID-19 vaccine so that all our Kansas can make informed decisions about their health," Sanders said.
Watch:
Arkansas will ban COVID vaccine mandates for public employees.

And we will publish all potential risks related to the vaccine so Arkansans can make informed decisions about their health. pic.twitter.com/2A5Qqv165p

— Sarah Huckabee Sanders (@SarahHuckabee) September 8, 2023
Governor Sanders further discussed her administration's position in an interview with Sean Hannity.
Watch:
I stand for freedom. pic.twitter.com/zaAqAFbasL

— Sarah Huckabee Sanders (@SarahHuckabee) September 9, 2023