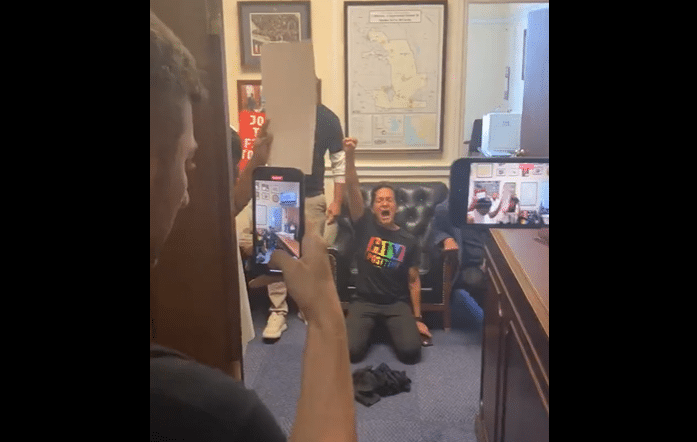 Far-left LGBTQ+ activists stormed and occupied Speaker Kevin McCarthy's office on Monday, which under the new rules, amounts to an insurrection.
In contrast, pro-Trump demonstrators who simply walked around inside the Capitol to protest the stolen 20202 election are currently rotting in a DC jail.
In the video below, first captured by Politico reporter Alice Miranda Ollstein, the protesters can be seen shouting, "Pass PEPFAR now, McCarthy!"
Watch:
Far Left insurrectionists have stormed Speaker Kevin McCarthy's office.

I'm assuming these people will be locked up immediately, put on no fly lists, will have their houses raided and will be sentenced to years in prison, right?

pic.twitter.com/7Lo8ZTHmLz

— ALX 🇺🇸 (@alx) September 11, 2023
Ollstein reported that six people were arrested, their hands "cuffed" with zip ties. They were escorted away by the police, all the while continuing to shout about the bill.
6 activists are being arrested by Capitol Police, lined up against the wall and handcuffed pic.twitter.com/qgWCCcgsM2

— Alice Miranda Ollstein (@AliceOllstein) September 11, 2023
PEPFAR, a program launched in 2003 to combat AIDS and HIV in developing nations, has been widely recognized for its role in saving potentially up to 25 million lives.
However, Politico reports that it is set to expire on September 30. Although Congress typically renews it without significant difficulties or delays, some Republicans have alleged that the Biden administration is allocating a portion of the $7 billion annual budget to abortion providers. Consequently, they are advocating for a provision to prevent such allocations, a claim that the Biden administration firmly denies.
It seems like this conflict can be easily resolved. If none of the money is going to abortion providers, then why do the Democrats have a problem with a provision that prevents the money from going to abortion providers?
The likely answer is that the money is indeed going to abortion providers.
As a result, House Republicans have introduced pro-life language into the appropriations process to block this funding. Rep. Chris Smith (R-NJ) shared his perspective with Politico, saying:
That's the gee-whiz moment that's happening when I have conversations with people who do believe in the sanctity of life. I'm encouraged that within two or three minutes of a conversation people would say,

That's not what we signed up for. We signed up to go after HIV and AIDS aggressively and effectively, not to have a diversion of priority to abortion on demand.
Social media users quickly picked up on the irony of the situation:
Is that an insurrection? I guess not, unless they support #Trump. https://t.co/b1Pgbn3f3t

— Sharyl Attkisson 🕵️‍♂️💼🥋 (@SharylAttkisson) September 11, 2023
Seems there's another unarmed "insurrection" going on at the Capitol as "rioters" occupy Speaker McCarthy's office.

I fully expect everyone involved to be sentenced to 18-22 years in federal prison… 🤨 pic.twitter.com/VelADxR8pm

— Mrgunsngear (@Mrgunsngear) September 11, 2023
This could be 1) Disorderly and Disruptive Conduct in a Restricted Building or Grounds; 2) Disorderly Conduct in a Capitol Building; 3) Impeding Passage Through the Capitol Grounds or Buildings; 4) Parading, Demonstrating, or Picketing in a Capitol Building, and more. https://t.co/8UlOZd6yr6

— Byron York (@ByronYork) September 11, 2023
Look at this insurrection https://t.co/VPMgEbJPaP

— Jenna Ellis (@JennaEllisEsq) September 11, 2023
INSURRECTION!!!!!

I want 17-22 years for these folks.

pic.twitter.com/Q8jYeVr3Id

— Mike Sperrazza (@MikeASperrazza) September 11, 2023