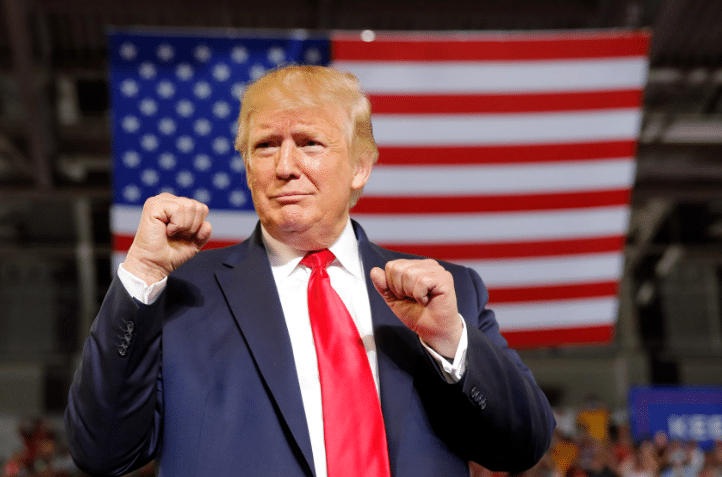 A 2024 presidential election poll shows President Trump is currently leading Joe Biden in the race.
The poll showed Trump with 50% support and Biden with 49% support.
Additionally, the poll showed that Trump is dominating among Independents, where he garnered 57% support, while Biden had only 42%.
🇺🇲 2024 Presidential Election: CBS News

(R) Trump 50%
(D) Biden 49%

Independents
(R) Trump 57%
(D) Biden 42%

YouGov (B+) | 2,385 LV | 09/12-15https://t.co/cCxvWvc9QI pic.twitter.com/H78gjkJWkS

— InteractivePolls (@IAPolls2022) September 17, 2023
From Breitbart reported:
Former President Donald Trump leads President Joe Biden in a hypothetical 2024 presidential election matchup, according to a CBS News/YouGov poll and a Harvard-Harris poll.

The CBS News/YouGov poll released Sunday shows that 50 percent of 4,002 U.S. adults sampled would vote for Trump in a rematch of the 2020 presidential election while 49 percent would back Biden. Just one percent of voters are undecided in such a scenario.

Trump enjoys a double-digit advantage among independent voters at 57 percent to Biden's 42 percent. Biden takes a slim six-point lead among Hispanic voters.

Among the nearly 2,700 registered voters in the sample, just 34 percent believe Biden would finish a second term if reelected, versus a plurality of 44 percent who think he will not finish a second term. Conversely, most voters predict Trump would finish a second term.