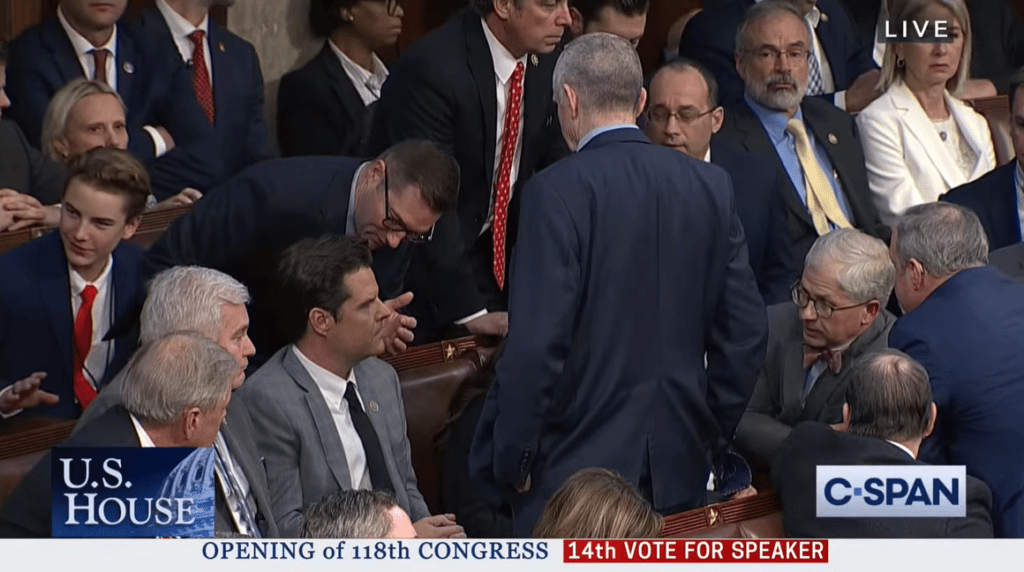 Kevin McCarthy's difficult road to becoming House speaker ended early Saturday morning.
The 15th and final vote for House speaker gave McCarthy 216 votes, a bare majority that was lower than the normal 218 votes needed because all six of his remaining GOP opponents relented and voted "present." Reps.-elect Andy Biggs, Lauren Boebert, Eli Crane, Matt Gaetz, Bob Good and Matt Rosendale of Montana voted "present" in the final round.
In the end, no Republican voted against McCarthy, which was the closest thing to GOP unity seen all week.
Chaos ensued on the House floor as the 14th vote for Speaker fell short by one vote for McCarthy.
After Gaetz voted present, it caused McCarthy to lose the House Speaker for the 14th time.
After the voting session concluded, McCarthy approached Gaetz and started to raise his voice at him.
Daily Mail reports – McCarthy immediately walked up to Reps. Matt Gaetz and Lauren Boebert, presumably with the intent of persuading them to change their 'present' votes to 'yes.'
Gaetz responded back but it was unclear what he said.
Rep. Mike Rogers of Alabama then lunged at Gaetz and had to be held back by Rep. Richard Hudson before an all-out fistfight could break out on the House floor.
Watch:
Matt Gaetz could be seen talking to McCarthy after the scuffle with Rep. Rogers.
Watch:
According to Scott Presler, Rep. Matt Gaetz has changed his vote to adjourn to "nay," and it appears he may have an agreement with Rep. McCarthy.
It appears some sort of deal was made before the vote.
MTG was running around with her phone – with Trump on the line.
Watch via CSPAN: