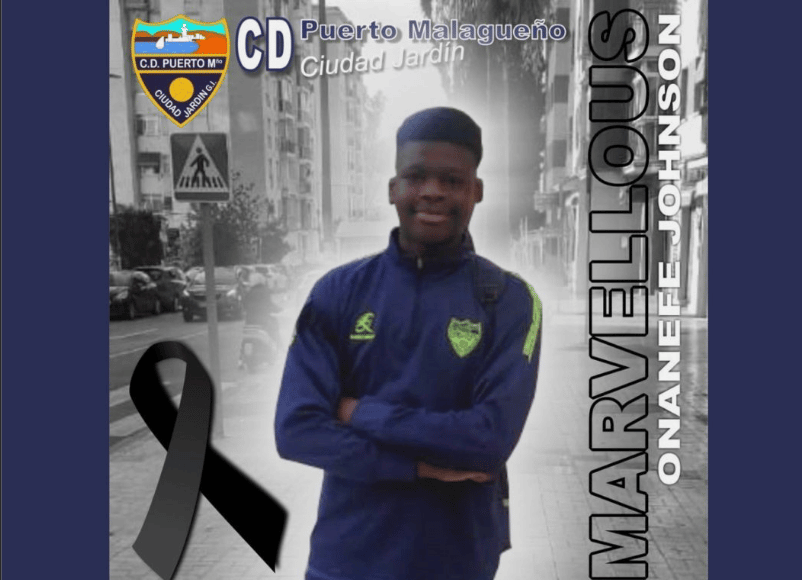 A football player from Malaga, Spain, who was only 13 years old, died suddenly last week after collapsing during a game.
Marvellous Onanefe Johnson, who was playing for CD Puerto Malagueño Ciudad Jardín, suddenly collapsed with five minutes left in their match against UD Prados.
"Yesterday was a tough day for the CD Puerto Malagueño Ciudad Jardín G.I," the club wrote on Facebook.
"In the disputed match of the 3rd Andalusia Children against U.D. Los Prados, with 5 minutes left for the end of the game, something unexpected arose for everyone, our 13-year-old player MARVELLOUS ONANEFE JOHNSON, fell down on the field or gaming."
Despite the best efforts of the local police and medical personnel, Johnson could not be resuscitated.
"After a few moments of uncertainty from all match attendees and club staff and after the attempted resuscitation by local police and 061, our player could not be resuscitated."
"From the Puerto Malagueño CD, we give our most sincere condolences to the parents and families following the tragic outcome."
According to the team, they have never encountered such an incident before.
"Very tough times for our club, we've never ex
"These are very hard times for our club, we have never experienced anything like this before.
"An angel has gone to heaven, life is very unfair.
"Wherever you are Marvellous, we will keep you all in our hearts. D.E.P."
The cause of death is currently unknown and still waiting for an autopsy.