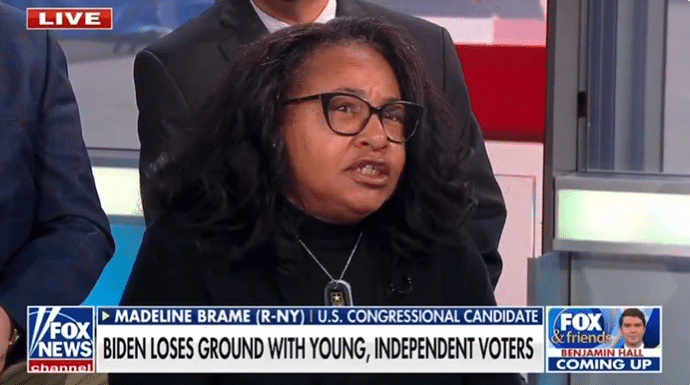 Lawrence Jones from Fox News led a panel of voters in a discussion on the current state of the country under Joe Biden.
Black congressional candidate Madeline Brame (R-NY) told the FOX audience that black people are ready to walk away from the Democratic plantation once and for all.
Madeline Brame:
Just like the illegals that are being pushed into these communities, sucking up the resources from the longtime residents that live there. All right, taxpayers, poor taxpayers, are now going to have to foot the bill for these people. And we can't even afford to pay our own rent. All right? Now we have tax coming down to programs and different things that are going to be cut directly from our community to pay for illegals. All right?

There's a problem with that. There's a huge problem with it. And, you know, minorities may be silent as far as being vocal. But I believe that in '24, this new election, the next cycle, we're going to see an overwhelmingly amount of people that we have not seen in 30 years come out to vote. All right?

People are being educated on the voter registration piece, how to change their party affiliation, question number 14 on their voter registration form. And people are walking away from the plantation of the Democratic Party once and for all.
Watch:
Black mother who lost veteran son to NYC unhinged crime crisis finally SNAPS against Democrat Party and Joe Biden's failed promises:

"People are walking away from the plantation of the Democrat Party once and for all!" pic.twitter.com/IDaVWIY9Js

— Benny Johnson (@bennyjohnson) November 21, 2023
Madeline gained national attention when her son, Sergeant Hason Correa, a war hero, was murdered in New York City by career criminals in 2018, individuals he didn't know prior to the incident. Initially, the first district attorney handling the case was confident of securing convictions and imposing substantial sentences. However, following the election, Alvin Bragg, a notorious Manhattan DA, assumed control and sought sweetheart deals for all four of Hason's killers. Shockingly, Bragg declined to pursue murder charges against two of the assailants. This prompted Madeline to take a stand.
Initially, she protested against Bragg solo outside his office, using a bullhorn. Eventually, her lone protest grew into massive rallies with hundreds of people joining her cause, opposing the idea of her son's killers receiving light sentences. Consequently, the remaining two perpetrators faced trial and were handed lengthy sentences.