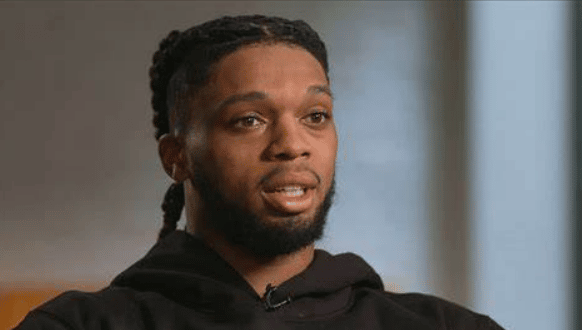 In a new interview, Buffalo Bills star Damar Hamlin refused to reveal the official cause of his cardiac arrest mid-game last month.
After suffering cardiac arrest on January 2, Hamlin has made a miraculous recovery.
During an interview with Michael Strahan, Hamlin suggested that doctors had given him an official reason why his heart stopped beating but he refused to disclose what they told him.
Hamlin gave an awkward response when asked by Strahan how the doctors described what happened to him.
He paused for nearly 15 seconds before responding, "Umm… that's something I want to stay away from."
Hamlin seemed very nervous throughout the interview.
Watch:
Weird.
The Post Millennial reported the details of the interview:
In his first on-camera interview since suffering sudden cardiac arrest during a game against the Cincinnati Bengals in January, Buffalo Bills safety Damar Hamlin discussed the events that led up to the incident, and how healthcare professionals saved his life. He refused, however, to get into what doctors told him could have caused his heart attack.

When pressed by ex-NFL player-turned-Good Morning America host Michael Strahan, Hamlin said simply, "That's something I wanna stay away from."

"Did doctors ever come to you and say 'this could've gone another way'?" Strahan asked.

"Pretty much," Hamlin replied, adding that they told him he'd "won the game of life."

Hamlin went on to explain that his recovery had been described as "remarkable," chalking it up to "a blessing" from God, as well as world-class care at the hospital in Cincinnati.

"You're twenty-four," Strahan continued, "peak physical condition … How did doctors describe what happened to you?"

Hamlin took a long pause before finally saying, "Um, that's something I wanna stay away from."

Strahan chose not to dig any deeper into that aspect of the story, but did ask whether any signs that a cardiac event was imminent showed up on the multitude of tests the NFL conducts on players.

"Honestly, no," Hamlin replied. "I've always been a healthy, young, fit, energetic human being, so it was is something that we're still processing and I'm still talking through with my doctors to see what everything was."

Hamlin went on to note that while he was feeling better, getting back on the field was still a ways away. In the interim, he explained that he'd be working with the American Heart Association to educate more people about CPR so other people's lives can be saved as his was.

During the incident, which took place on January 2, Hamlin made a tackle on Bengals wide receiver Tee Higgins in the latter half of the first quarter. He managed to get up without issue, but then all of a sudden stepped back and collapsed. CPR was administered, and he was rushed to hospital, where after over a week of intensive care, he was released.
Has Damar Hamlin been captured by Pfizer?
This whole situation is just bizarre, and Hamlin's behavior has been very strange since returning to the public eye.
He hid his face for weeks and then trolled the fans who prayed for his recovery and donated to his charity.
He tweeted, "clone" in response to the rumors that he had died.
He wore this jacket, overtly mocking Jesus, to the Super Bowl.