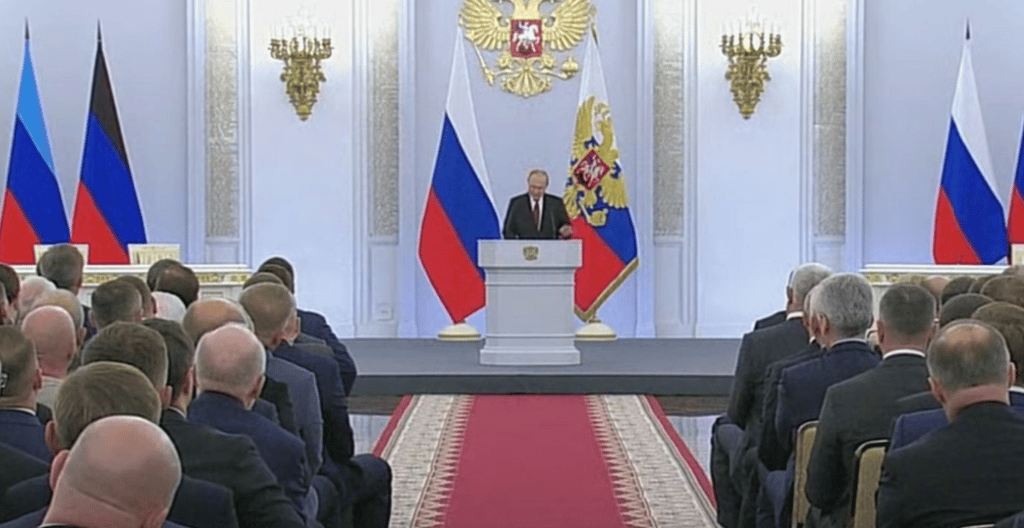 On Monday saboteurs targeted Russia's Nord Stream 1 and 2 gas pipelines in the Baltic Sea. The attacks that shut down both pipelines from Russia are suspected sabotage according to U.S. and European leaders and analysts.
Sweden reported detecting explosions early Monday morning and Monday evening, with the morning one registering 1.9 on the Richter scale and the evening explosion registering 2.3.
The Danish military released photos and video of the gas leaks bubbling up in the Baltic Sea:
The pipelines are protected by a layer of steel-reinforced concrete reported the Guardian:
"How strong is a Nord Stream pipe? Quite!"
"The steel pipe itself has a wall of 4.1 cm (1.6 inches) and is coated with steel-reinforced concrete up to 11cm thick. Each section of the pipe weighs 11 tonnes, which goes to 24-25 tonnes after the concrete is applied."
EU Parliamentarian Radek Sikorski, the Chairman of the EU-USA delegation, thanked the US following the explosions, suggesting Joe Biden had something to do with it. His tweet has since been removed.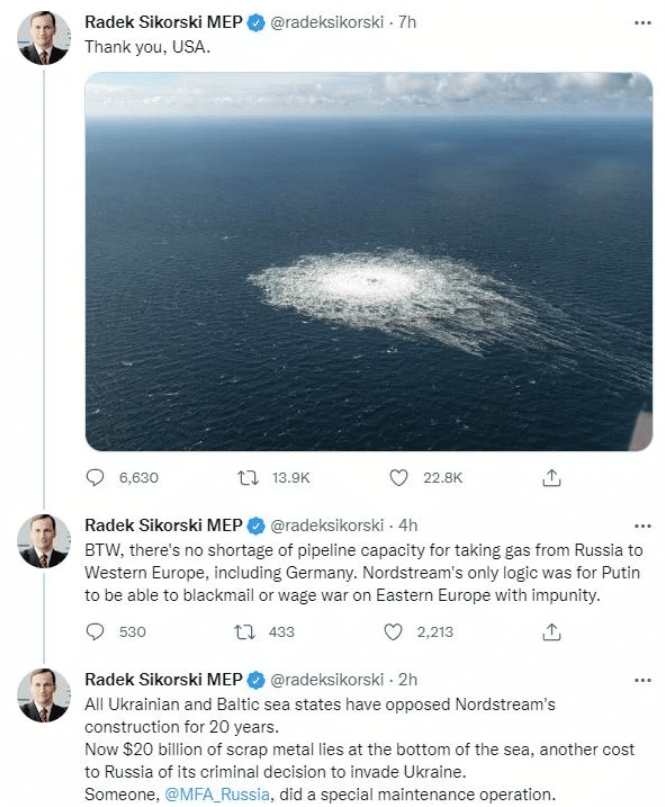 And Joe Biden threatened end the Nord Stream pipelines Russia were to invade Ukraine.
Watch:
On Friday Russian leader, Vladimir Putin, blamed the US and UK for setting off the explosions, saying, "It's obvious to everyone who benefits from it. Those who benefit are the ones who have done it."
Russia Today reported:
The US and UK orchestrated the blasts on the Nord Stream 1 and 2 gas pipelines in the Baltic Sea, which delivered Russian natural gas to Germany, because they "obviously" benefit from it, President Vladimir Putin insisted on Friday.

Putin accused Washington of trying to pressure the EU into banning Russian supplies to "completely get its hands on the European market."

"But the sanctions are no longer enough for the Anglo-Saxons," he said, using Russian shorthand for the US-UK transatlantic alliance. "They have turned to sabotage – it's unbelievable, but it's a fact – by organizing the explosions on the Nord Stream international gas pipelines," the president stated.

"They de facto began the destruction of the common European energy infrastructure. It's obvious to everyone who benefits from it. Those who benefit are the ones who have done it."