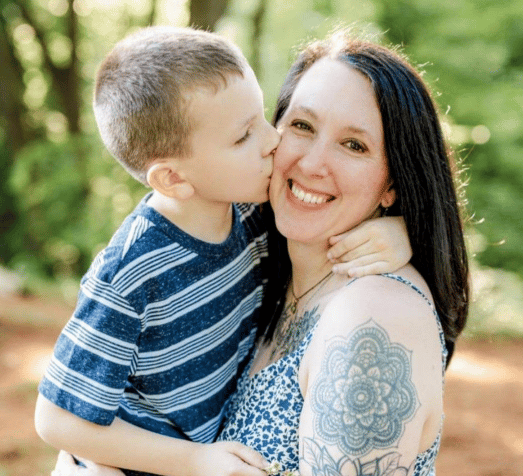 A community in Livingston County, MI is mourning the loss of a beloved local paramedic and nurse described as a "legend" and "guardian angel", who passed away unexpectedly on September 5.
Cassandra "Cassie" Schmidt, 42, of Howell, was a paramedic for over a decade, before going back to school to obtain her nursing degree. She was employed as a nurse by Owosso Memorial Hospital and then St. Joseph Mercy Livingston Hospital – where she was said to have quickly excelled to the position of "charge nurse".
Cassandra's cause of death is unknown.
Schmidt is survived by her husband and three children.
Livingston County EMS announced the sad news on their Facebook page:
"It is with great sadness that we announce the passing of our friend Cassandra Schmidt. Cassandra was a part of the LCEMS family and worked as a paramedic here for over a decade before moving on to pursue a nursing career. She will always be remembered as a very caring and compassionate person who always worked hard to make others feel better. She was a great friend to many and a wonderful clinician to her patients. She was driven, and passionate, and she will be greatly missed by so many. Cassandra Schmidt was a legend. Our thoughts and prayers are with her family during this difficult time."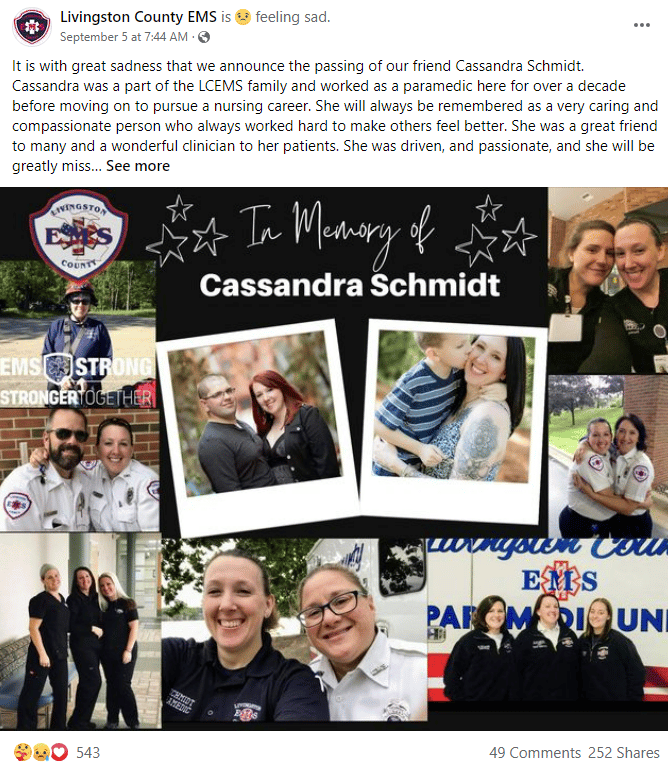 "I'm devastated. We are all devastated," said Janna Wallace, who worked with Schmidt at St. Joseph Mercy Livingston Hospital.
Wallace described Schmidt as authentic, brave, kind and insightful. She said Schmidt always invited people to her house for bonfires and had a welcoming presence.
She said hospital staff everywhere knew Schmidt because she was a hard worker.
"We think of her as a guardian angel now because that's really what she was to us in the department because of the strength that she brought," she said.
The Livingston Sheriff Department paid tribute on Twitter.
"Recently, our community suffered the unfortunate & sudden loss of Cassandra Schmidt, a remarkable first responder. On 10/2, EMS is hosting a spaghetti dinner to celebrate Cassie's life & support the loving family she leaves behind, her husband, two sons, and daughter."
A GoFundMe account with a $20,000 goal has been set up to help assist the family