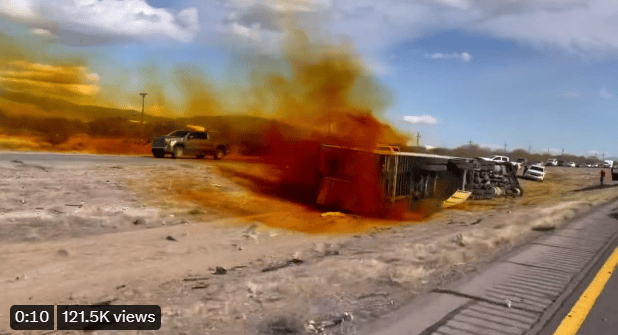 Evacations are underway after a semi-truck carrying hazardous materials overturned on I-10 in Tuscon, Arizona.
"I-10 closed near Rita Rd due to this crash and fire. There is evacuations of homes in the area underway near Rita Rd and I-10 related to this situation, which is now a hazmat situation," the Whats Up Tucson Twitter account tweeted.
The semi-truck was reportedly carrying nitric acid, a corrosive chemical used in the manufacture of fertilizers, dyes and explosives.
From the CDC:
Nitric acid (HNO₃) is a colorless liquid with yellow or red fumes with an acrid odor. Exposure to nitric acid can cause irritation to the eyes, skin, and mucous membrane; it can also cause delayed pulmonary edema, pneumonitis, bronchitis, and dental erosion. Nitric acid is highly corrosive. Workers may be harmed from exposure to nitric acid. The level of exposure depends upon the dose, duration, and work being done.
More:
FOX News reported:
A portion of an Arizona freeway was closed in both directions Tuesday as a result of a crash and hazmat spill, authorities said.

The state Department of Public Safety said the closure on Interstate 10 between Rita and Kolb roads in Tucson was "extensive" and urged motorists to avoid the area.

A commercial truck tanker rolled over on the freeway, causing the spill, authorities said.

Pima County officials told Fox News Digital that the spilled substance was nitric acid. An alert directed everyone within a one-mile radius of the spill to shelter in place.

The Tucson Fire Department said it was on the scene with other agencies to clean up the area. There was no estimated time to reopen the road.

Nitric acid is a highly corrosive chemical used in manufacturing and fertilizer. Several areas have been evacuated, officials told Fox News Digital.

Authorities have not said if there is any danger to the public. The spill came weeks after a train derailment in Ohio that leaked toxic chemicals into the air in the town of East Palestine.

Many questions remain unanswered after a train consisting of approximately 50 cars, including several carrying highly toxic vinyl chloride, derailed en route to Pennsylvania on the evening of Feb. 3 due to a broken axle.