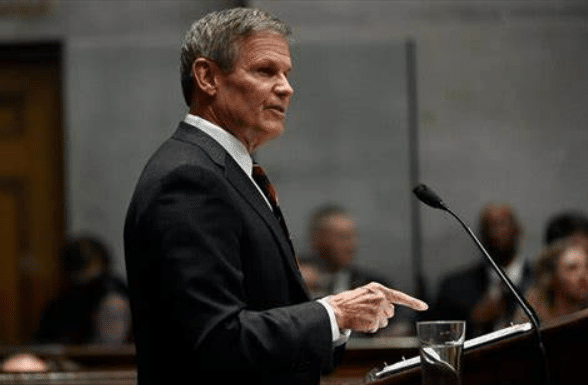 Tennessee Governor Bill Lee, a Republican, signed legislation that bans all gender-affirming treatment for children.
The total ban on "gender-affirming care" for kids includes puberty blockers and hormone treatments.
Lee also signed legislation that bans "adult-oriented" entertainment, such as drag shows, from public property.
These types of shows must be held at age-restricted venues starting April 1st.
Breaking Digest previously reported that Montana passed a similar bill, banning drag shows in public places where children are present and prohibiting minors from attending drag shows.
In addition to Montana, similar bills have advanced in Nebraska, Mississippi, Oklahoma and South Dakota. In Utah, the Republican governor recently signed a transgender medical ban into law.
Similar bans in Arkansas and Alabama have been temporarily blocked by federal judges.
Lee signed the bill despite threats of impending litigation from civil rights organizations.
NBC News reported:
Tennessee Gov. Bill Lee signed a novel bill into law Thursday that will criminalize some drag performances.

The first-of-its-kind legislation will ban "adult cabaret entertainment" on public property or in locations where it can be viewed by minors. Such entertainment, according to the measure, includes "topless dancers, go-go dancers, exotic dancers, strippers, male or female impersonators, or similar entertainers."

The law, which takes effect April 1, calls for first-time offenders to be slapped with misdemeanors. Subsequent offenses would be classified as felonies and could result in prison sentences of up to six years.

Lawmakers in at least a dozen other states have proposed measures that would similarly restrict drag performances, according to an NBC News analysis.

Supporters say the legislation is necessary to safeguard children against exposure to inappropriate entertainment.
"My bill, Senate Bill 3, is now headed to @GovBillLee to become law. This bill gives confidence to parents that they can take their kids to a public or private show and will not be blindsided by a sexualized performance," said Tennessee State Senator Jack Johnson.
The Tennessean added:
The new health law bans medications such as puberty blockers and hormone treatments to treat any underlying gender dysphoria cause, affecting Tennessee children who identify as transgender and nonbinary. Surgeries, which were rare in Tennessee, are also banned.

Children who currently take the medications will have until March 31, 2024, to cycle off of treatment. The law, which was fast-tracked by the legislature's Republican supermajority in this year's legislative session, will officially go into effect this summer.

The American Civil Liberties Union plans to sue over the bill.

"We will not allow this dangerous law to stand. Certain politicians and Governor Lee have made no secret of their intent to discriminate against youth who are transgender or their willful ignorance about the life-saving health care they seek to ban," the American Civil Liberties Union, the ACLU of Tennessee, and Lambda Legal said in a joint statement Thursday.