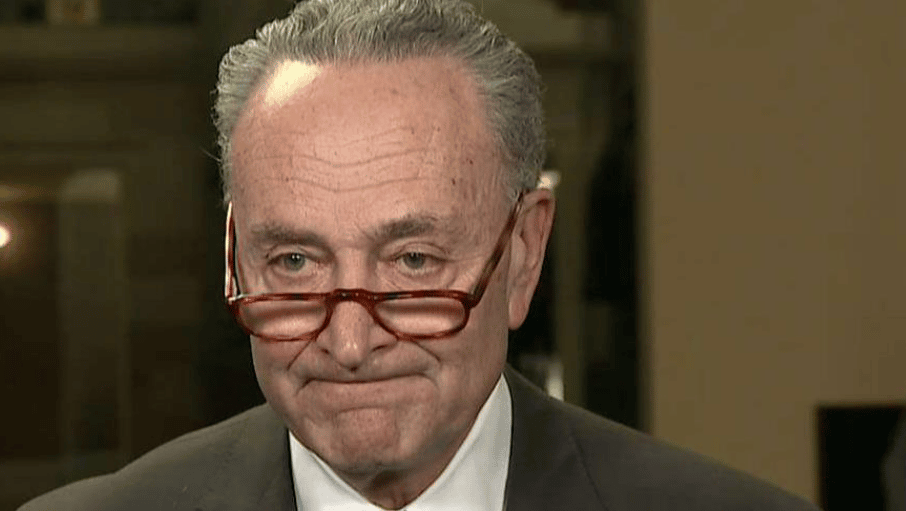 Democrat Senate Majority Leader Chuck Schumer is terrified about what uncovered in the 44,000 hours of J6 footage that Tucker Carlson has been given unfettered access to review. 
Predictably, he claims he is concerned about national security, but he didn't seem to care that Nancy Pelosi's daughter filmed them in their secure hiding place inside the Capitol that day.
Most Americans know that the Jan 6 "riots" were a set up and are eager to see footage that has been hidden from the American public. This information should never have been hidden from the American public in the first place.
On Jan 6, four Trump supporters were killed. ZERO police officers were killed in the incident.
Chuck Schumer is falsely calling the release of the footage "dangerous".
Schumer claims that he is worried that Americans will find out how the Capitol is protected.
In a letter to colleagues sent Wednesday, Schumer said McCarthy is "needlessly exposing the Capitol complex to one of the worst security risks since 9/11."
He claimed the 44,000 hours of footage is a "treasure trove of closely held information about how the Capitol complex is protected and its public release would compromise the safety of the Legislative Branch and allow those who want to commit another attack to learn how Congress is safeguarded."
If Schumer and the Democrats are so concerned about the security of the Capitol, why didn't they order more police and the national guard to be deployed at the Capitol on Jan 6?
Even Pelosi's daughter, Alexandra, knows the Jan 6 protest was not an insurrection.
Carlson has confirmed that he has the footage and said that his producers are combing through the material and will report on the findings next week.
Schumer is not the only Democrat who is freaking out about the imminent release of the footage.
Yesterday, Breaking Digest reported that other Democrats such as, House Minority Leader Hakeem Jeffries, Ritchie Torres (D-NY), RINO Adam Kinzinger, Adam Schiff (D-CA) and Jamie Raskin (D-MD) are in full meltdown over the footage being given to Tucker Carlson.