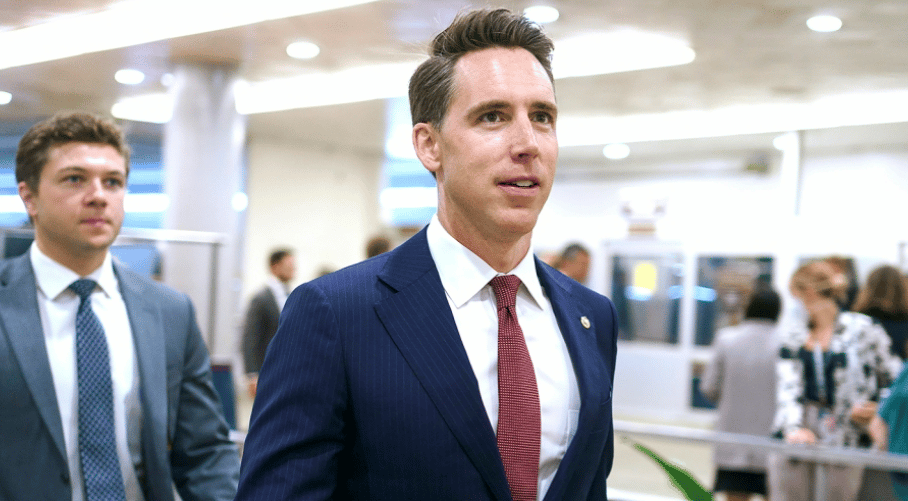 On Tuesday, Sen. Josh Hawley (R-MO) reintroduced a bill that would forbid members of Congress, and their family members, from trading individual stocks.
The proposal would require Congress members and their immediate families to move any stocks they own into qualified blind trusts.
It would also force those in violation to return their profits back to the American people. If they fail to move the stocks, they'd lose them to the U.S. treasury.
Hawley actually first introduced a version of this bill a year ago but updated it, giving it the most appropriate name.
Here is a copy of the bill via Sen. Josh Hawley:
From the Daily Wire:
U.S. Senator Josh Hawley (R-MO) reintroduced his 2022 insider trading bill Tuesday that would ban lawmakers and their spouses from holding and trading individual stocks and force political figures to return profits to American citizens under a new title dubbed the "PELOSI Act."

The Preventing Elected Leaders from Owning Securities and Investments (PELOSI) Act comes just over a year after Hawley introduced the original bill, in which he accuses politicians of somehow outperforming the stock market every year they hold office.

This time around, the senator's updated version takes a jab at California Rep. Nancy Pelosi, who many Republican lawmakers had slammed after her husband, Paul Pelosi, sold up to $5 million worth of shares in Nvidia, a California company that produces semiconductors, just before the House voted on a bill surrounding the domestic chip manufacturing industry.
More from the Daily Caller:
"For too long, politicians in Washington have taken advantage of the economic system they write the rules for, turning profits for themselves at the expense of the American people," Hawley said in a statement. "As members of Congress, both Senators and Representatives are tasked with providing oversight of the same companies they invest in, yet they continually buy and sell stocks, outperforming the market time and again."

Former Speaker of the House Nancy Pelosi, reportedly one of the wealthiest members of Congress, opposed bans on stock trading in the 117th Congress. Pelosi and her husband Paul bought and sold millions in stocks, including chip stocks just before Congress passed a semiconductor subsidy package in 2022.