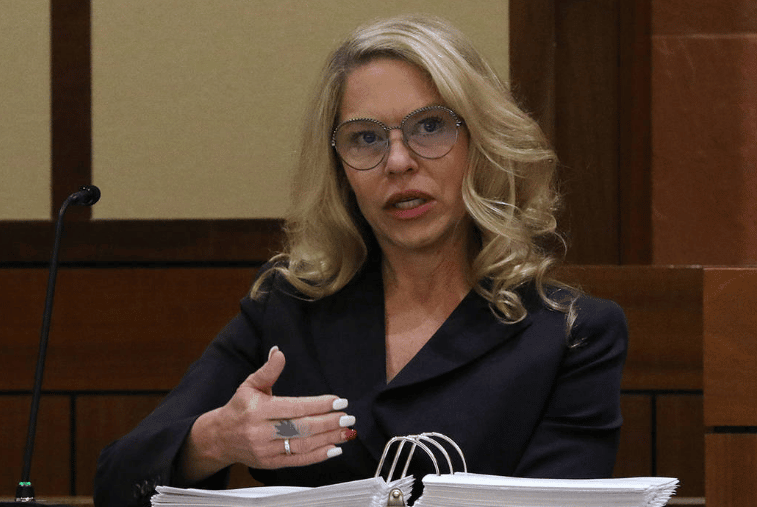 Former Las Vegas judge Melanie Andress Tobiasson has died. She was 53.
Andress-Tobiasson was reportedly found dead on Friday, according to 8NewsNow. Although it is unclear where or how she died, officials have already declared that the former judge committed suicide.
According to Andress-Tobiasson, she resigned in an attempt to avoid a complicated ethics investigation that started when she attempted to rescue her daughter from being allegedly sex trafficked.
In an act she believed would protect her daughter, Andress-Tobiasson reached out to local law enforcement to warn them about the store owner at the time, but she claimed she received no action.
Being ignored by local law enforcement led Andress-Tobiasson to reach out to the FBI, which resulted in the Nevada's Judicial Discipline Commission launching an investigation into Andress-Tobiasson for breaching judicial rules.
Details from The New York Post regarding the probe:
Andress-Tobiasson said she had to go to the FBI with the information after being ignored by local police — which resulted in officers investigating her for allegedly breaching judicial rules by making an allegation to federal agents.

A complaint filed against Andress-Tobiasson alleged that she failed to comply with and uphold the law, and allowed family interests and relations to influence her conduct, the Daily Mail reported.
We are expected to believe that she went through all of that to protect her daughter, ultimately giving up her career, only to take her own life and leave her daughter without a mother? No reasonable person could believe that.
The Las Vegas Review-Journal reported:
Former Las Vegas judge Melanie Andress Tobiasson has died. She was 55.

Tobiasson, a Las Vegas native, died by suicide Friday around 2:35 p.m., the Clark County coroner's office confirmed Saturday afternoon.

The coroner ruled Tobiasson died from a gunshot wound from suicide.

"She could be a wonderful person," defense attorney Tom Pitaro said Friday. "She was happy, intelligent. She empathized with people."

Pitaro said he met the former judge when she was a deputy district attorney.

"She cared about people. She liked people, and if what is said is true, it's a tragedy," he said.

Tobiasson's tenure as a justice of the peace in Las Vegas Justice Court ended when she agreed to resign from the bench in April 2021 after facing several ethics charges.

In September 2020, the Nevada Commission on Judicial Discipline alleged that Tobiasson became involved in a double murder investigation and was affiliated with an organized crime figure.

The commission alleged that Tobiasson violated Nevada's Code of Judicial Conduct by abusing "the prestige of judicial office to advance" her personal interests.

Tobiasson was born in Las Vegas and graduated from Bishop Gorman High School. She was appointed to the Las Vegas Justice Court bench in 2009. Tobiasson worked in the Clark County district attorney's office until 1999 when she became a justice of the peace pro tem.

Tobiasson received her law degree from Pepperdine University in Malibu, California. She became licensed to practice law in Nevada in 1993.

Las Vegas police could not provide any information on Tobiasson's death.

No further information was available.