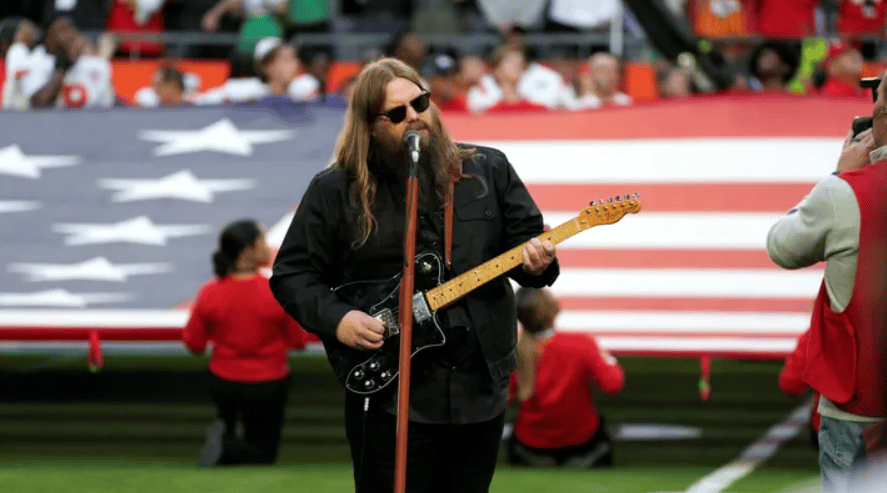 Country music star Chris Stapleton delivered one of the best National Anthem performances.
He sang his heartfelt rendition with pride to America and for Americans. It was a true ode to our country and a reminder of when standing for the "Star Spangled Banner" was a unifying moment for Americans.
It was so powerful and beautiful that players and coaches began crying on the field.
The Eagles head coach, Nick Sirianni, was so overcome by emotion during Stapleton's rendition that he had tears streaming down his face.
Cameras got the close-up as Sirianni let loose.
Watch:
Sirianni wasn't the only one who was moved by the Anthem. Eagles center Jason Kelce was also choked up.
Actor and former California congressional candidate Antonio Sabato, Jr., wrote: "Chris Stapleton delivered one of the best National Anthem performances."
"Chris Stapleton really should've been named the MVP," Barstool Sports tweeted of the performance.
@notBilly posted, "The national anthem was great. Chris Stapleton was phenomenal. Brought the Eagles coach to tears."
"Chris Stapleton … BEAUTIFUL," Atlanta Braves outfielder Michael Harris II chimed in.
Country music singer Parker McCollum wrote, "Chris Stapleton is the greatest singer of all time and you can't change my mind."
"Chris Stapleton's performance of the Star Spangled Banner was the greatest *live* rendition of our national anthem in Super Bowl history," Veteran Intelligence Officer, Travis Akers tweeted.
Other Twitter users called it the "only part of the Super Bowl worth watching," while others said the performance gave them "chills."
Watch:
From Variety:
Chris Stapleton's turn at singing the National Anthem at Super Bowl LVII represented the third consecutive year in which a country artist has sung all or part of the pre-game song, following Mickey Guyton in 2022 and Eric Church doing it as a duet with R&B star Jazmine Sullivan the year before. But Stapleton confirmed what many of his fans already know — that he's at least as much a classic blues singer as he is a country stylist.

Stapleton is the last singer to ever overtly milk a song for sentimentality, but it was either in spite of or because of his unusually gritty take on "The Star-Spangled Banner" that cameras were were able to cut to openly weepy reaction shots among the game's participants. These included Eagles lineman Jason Kelce, who appeared to be fighting off tears, and coach Nick Sirianni, who was saving the fighting for the battlefield, just going into full spigot mode.

The sight of Stapleton standing alone at center field with nothing but a Fender Telecaster, a tiny mic-ed amp and a couple of monitors was a symbol of American individualism, right before a game (and probably a Rihanna performance) devoted much more to the idea of teamwork. As many superior anthems as have been delivered over the years, Stapleton's delivery of it as something rugged and interior made for an inspired contrast to the sturm und drang with which it's often delivered.

The other two musical performances before kickoff provided a real study in contrasts. Babyface was even less showy than Stapleton, if also less rugged, also accompanying himself on guitar — albeit a flag-emblazoned acoustic one, with a full, pre-recorded backing track — as he sang the least belt-y version of "America the Beautiful" in memory, going for a quiet-storm approach to patriotism.
Indeed, and the Satanic symbolism as well.