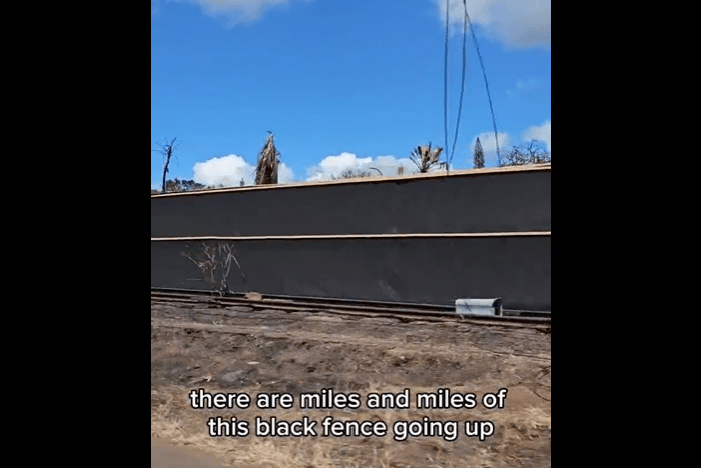 There has been a considerable amount of speculation surrounding the Maui fire and the attempts to prevent the media out of the affected area. According to reports, FEMA allegedly received a letter from Maui officials requesting a "pause on posting on social media and elsewhere images of damage/disaster/debris starting now." They justified the request as a means of showing respect for those who lost their lives.
Now, there are questions on social media surrounding the installation of black fencing or curtains that span miles within the fire-affected zone in Lahaina.
In a video posted on TikTok and Twitter, @CygnusGeoff captured miles and miles of black fencing that extends along Lahaina in West Maui, blocking view and access to the origin sites of the deadly fires.
In the video, @CygnusGeoff mentioned that he parked his vehicle near the fencing to capture the scene on camera. However, he was swiftly approached by National Guard members, who instructed him to continue driving.
@CygnusGeoff also pointed out the presence of "Special Police" who were stationed to prevent any documentation from occurring.
He also emphasized that along the boundary of the black fencing, there are strict limitations: "You can't stop your car, you can't pull over, you can't fly a drone, you can't take a picture, you can't get in anywhere near any of this."
Watch:
The special police show up to ensure a total media blackout here in Lahaina West Maui#specialpolice #Mediablackout #mediafreezone #lockdown #nofilming #tsunamialarm #Notillegal #1stamendment #powersthatbe #WestMauifires #policestate #Mauifires #Hawaii #Maui #WestMauiExperiment… pic.twitter.com/WKn1Wi8o62

— GeoffCygnus (@CygnusGeoff) August 27, 2023
Many are questioning the purpose for the curtains, with some even labeling it the "Biden curtain." This situation has given rise to various theories about the reason behind installing a wall around Maui's ground zero site, sparking questions about potential hidden agendas.
The official reason given for this wall/curtain is reportedly a dust screen to keep the dust/ash from the affected area blowing onto the highway as they work to deal with the debris.
This does not, however, address the "Special Police" that @CygnusGeoff says were stationed in the area.
The construction of a dust screen wall/curtain is underway, covering a distance of five miles along Honoapiʻilani Highway (Route 30) and the Lahaina Bypass (Route 3000). The wall/curtain will extend over 30,000 linear feet, with an estimated completion time of about one month. The primary objective of this measure, according to Robin Shishido, the Deputy Director for Highways at the Hawaii Department of Transportation, is to enhance safety by minimizing potential exposure to hazardous materials.
Watch: