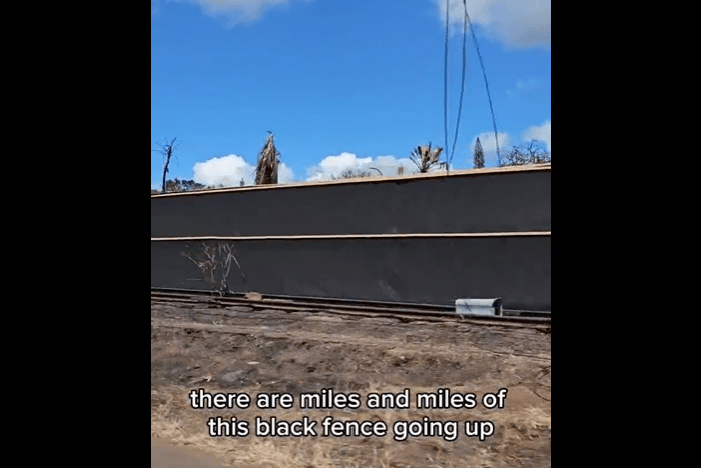 In a new video posted on TikTok and Twitter, @CygnusGeoff captured miles and miles of black fencing that extends along Lahaina in West Maui, blocking view and access to the origin sites of the deadly fires.
In the video, @CygnusGeoff mentioned that he parked his vehicle near the fencing to capture the scene on camera. However, he was swiftly approached by National Guard members, who instructed him to continue driving.
@CygnusGeoff also pointed out the presence of "Special Police" who were stationed to prevent any documentation from occurring.
He also emphasizes that along the boundary of the black fencing, there are strict limitations: "You can't stop your car, you can't pull over, you can't fly a drone, you can't take a picture, you can't get in anywhere near any of this."
Watch:
The special police show up to ensure a total media blackout here in Lahaina West Maui#specialpolice #Mediablackout #mediafreezone #lockdown #nofilming #tsunamialarm #Notillegal #1stamendment #powersthatbe #WestMauifires #policestate #Mauifires #Hawaii #Maui #WestMauiExperiment… pic.twitter.com/WKn1Wi8o62

— GeoffCygnus (@CygnusGeoff) August 27, 2023
From WND:
It's already being called "The Biden Curtain," as new videos from Lahaina, Maui, reveal miles of black curtains erected to prevent people from seeing what's happening at the origin site of this month's catastrophic wildfires in Hawaii.

Geoff Cygnus, a citizen journalist on TikTok, posted the video, with a caption reading: "Miles and miles of black fencing being put up in Lahaina. Ground Zero is now behind the Biden curtain."

"There seems to be a huge emphasis on ensuring that the media and anyone else can't see what's going on," Cygnus reported.
The black fencing is already being called "the Biden curtain" on social media.
It's already being called "The Biden Curtain," as new videos from Lahaina, Maui, reveal miles of black curtains erected to prevent people from seeing what's happening at the origin site of this month's catastrophic wildfires in Hawaii.

Geoff Cygnus, a citizen journalist on… pic.twitter.com/0MIIW4nXc7

— David Croom – (ツ) (@dailycallout) August 29, 2023