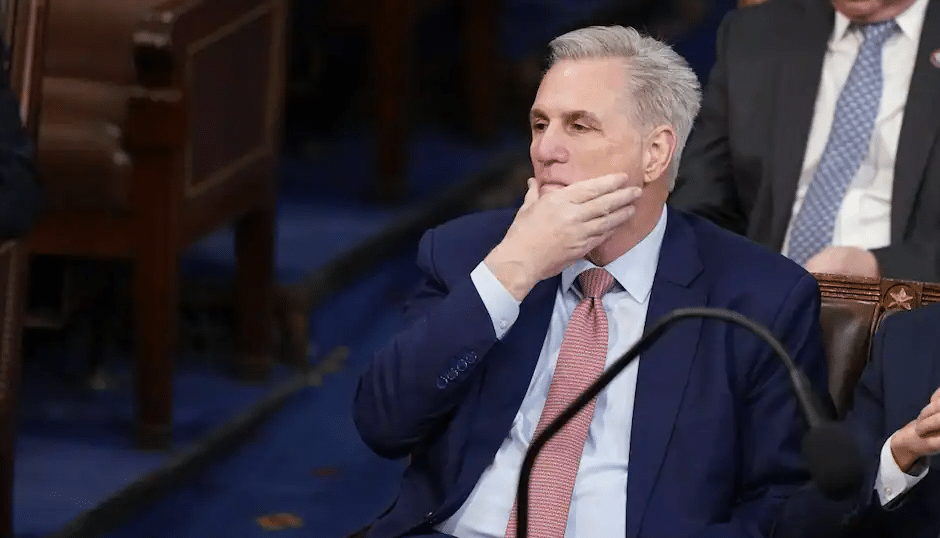 Rep. Kevin McCarthy has reportedly caved and has given in to all demands made by his GOP detractors.
The US House voted for Speaker for the 6th time Wednesday afternoon.
McCarthy lost the 6th vote.
20 GOP lawmakers refused to vote for McCarthy.
After two days of humiliation, McCarthy met with his detractors behind closed doors, according to Punchbowl News.
McCarthy entered a meeting through a back door with several of his high-profile GOP detractors.
According to Politico reporter Olivia Beavers: "McCarthy's team laid out a compromise that would give in to nearly every demand expressed by the current defectors. Plan discusses everything from rules committee seats to house floor vote guarantees, a source familiar tells me."
The compromise was taken favorably, but we'll have to see if it will be enough to get McCarthy the necessary votes.
Following the meeting, Rep. Matt Gaetz (R-FL) blasted McCarthy following:
"He's a desperate guy whose vote share is dropping with every subsequent vote and I'm ready to vote all night, all week, all month, and never for that person," Rep. Gaetz told reporters.
Watch:
"So, I tell you what, when he comes out and heads back to his squatting in the speaker's office, which why is he going to be allowed to be there? Like, is there some basis in law or statute or rule for someone who comes in second place and 6th consecutive speaker races to be able to assume in the speaker's office?" Gaetz continued.
On Tuesday, Gaetz demanded answers from the Architect of the Capitol as to why McCarthy was allowed to occupy the Speaker of the House Office in the Capitol.
Read:
On Wednesday, shortly after President Trump shared his support again for McCarthy, Rep. Matt Gaetz tweeted the following:
"Supporting McCarthy is the worst Human Resources decision President Trump has ever made. Sad!" he said.
Many Americans agree with Gaetz regarding President Trump's endorsement of McCarthy. Americans want new leadership not more of the same.