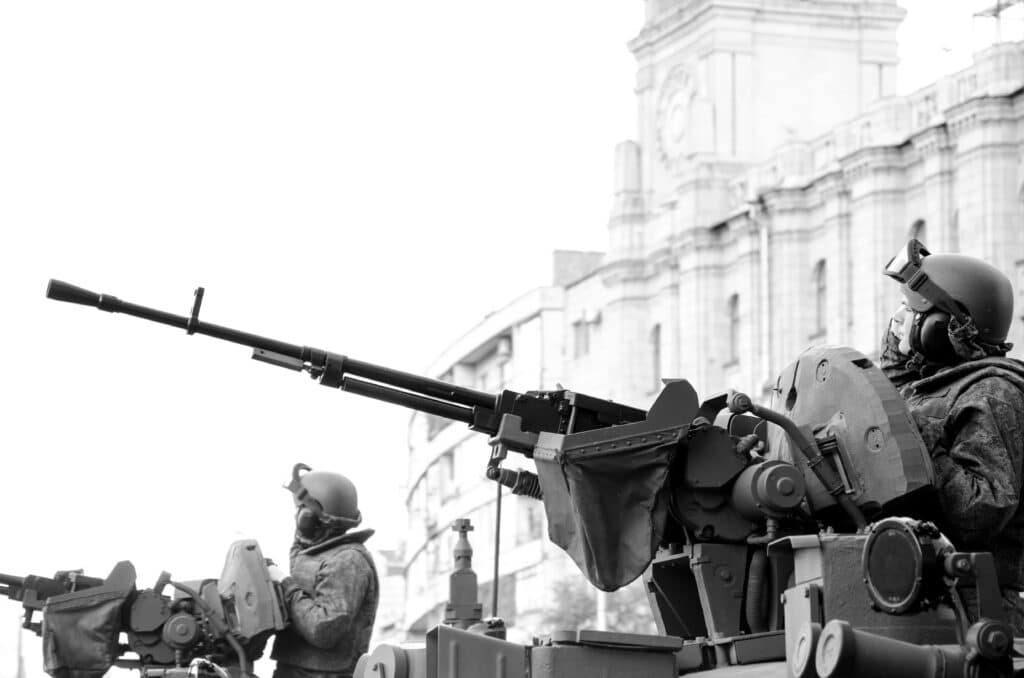 Weapons manufacturers are still having trouble producing more weapons for Ukraine and replenishing supplies for the United States and its allies due to supply-chain bottlenecks.
Sales of the Guided Multiple Launch Rocket System, or GMLRS, a class of long-range missiles manufactured by Lockheed Martin Corp., declined in the most recent quarter compared to the same period last year. 
Despite receiving billions of dollars in backing from the Pentagon, major American armament manufacturers are taking longer than anticipated to increase output. 
Of the major military corporations, Lockheed Martin reports earnings first. Although the corporation stated it still anticipates declining revenues this year, sales increased from a year earlier and first-quarter earnings decreased. The corporation said that efforts to increase productivity are still hampered by a lack of essential parts, such as rocket motors for GMLRS and other missiles.
President Biden and Chief Executive Officer Jim Taiclet of Lockheed Martin agreed to double Javelin missile production by 2024 when they visited the company's factory in Troy, Alabama, in May. According to the firm and the Army, that goal has now been postponed to 2026, along with goals to increase production of GMLRS and Himars rocket launchers.
Now, Aerojet Rocketdyne Holdings Inc.'s former sole supplier Northrop Grumman Corp. will build more rocket motors as well as provide backup.
The Pentagon said last week that it had given Aerojet a $216 million contract to upgrade its manufacturing processes.  Antitrust regulators, who vetoed Aerojet's sale to Lockheed Martin last year, are reviewing the $4.7 billion sale to L3Harris Technologies Inc.
According to a study of Defense Department statements, the Pentagon has issued a few new contracts totaling around $1.2 billion this year that are connected to supplying Ukraine or backfilling inventories. Since Russia's invasion, some $11 billion in contracts have been made, albeit they won't be paid out for several more years.
After Russia's invasion of Ukraine last year, investors poured money into the stocks of defense companies. As a mix of financial, supply-chain, and contractual difficulties delayed the flow of acquisitions until late 2023 and beyond, that interest waned.
According to Mr. Malave of Lockheed, the business still anticipates that revenues related to Ukraine would total $1.5 billion this year, or about the same as in 2022, and $6 billion by 2027. In 2023, the corporation projects total annual sales of up to $66 billion.
During the United States' fiscal year 2023, spending for the defense industry saw a significant increase. The $842 billion Military budget request for fiscal 2024 is a 3.2% increase over what Congress approved last year, falling short of experts' highest expectations. The plan is a reduction in real terms given the industry's current 5% inflation rate.
The Pentagon's goals for fiscal 2025 and beyond call for a further flattening of growth, emphasizing the difficult financial decisions that Congress and the military commanders must make.
According to Dr. LaPlante of the Pentagon, strengthening resilience to deter China entails retiring outdated aircraft and ships in favor of more contemporary ones like unmanned aircraft and significantly increasing the budget for space exploration.
The Pentagon has been granted the go-ahead by Congress to consider buying armaments like shells and missiles in multiyear contracts, similar to how it buys expensive assets like ships and planes.
Block purchases include the GMLRS from Lockheed Martin and the PAC-3 missiles used in Patriot air defense systems. The Government Accountability Office estimates that 10% cost reductions for boats and planes are what the Military hopes would entice business to invest in additional manufacturing capacity.
No multiyear munitions contracts have been approved or given out to date since Congress has not yet been persuaded.
The comptroller of the Pentagon, Mike McCord, stated that additional research is needed about possible cost reductions from multiyear purchases, which he predicted will be more prominent in the fiscal 2025 budget proposal than the one for this year.