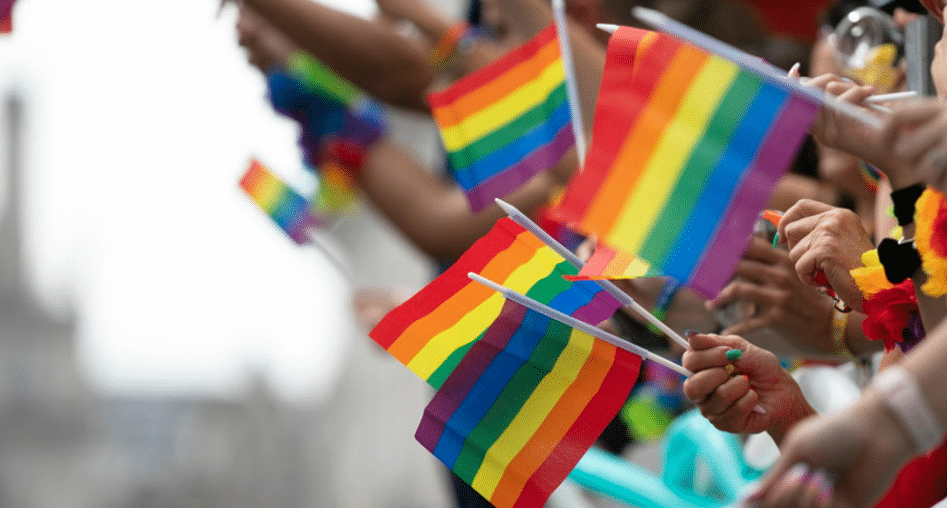 An LGBTQ organization has canceled its planned Florida Pride Parade and "Kid Zone" over a bill banning children from attending lewd adult-oriented performances.
Local station WPTV reported that the Pride Alliance of the Treasure Coast were contacted by the city and informed that they had to ban anyone under 21 in order to host the event. The City of Port St. Lucie told the station it was a "mutual decision" between the city and the organization.
Governor Ron DeSantis has taken actions to ensure that children are not exposed to sexual content.
As part of those actions, DeSantis aims to prohibit children from going to LGBTQ pride parades, which no one should find controversial given the overtly sexual behavior at these events.
The legislation, which DeSantis is expected to sign defines "adult live performances" as "any show, exhibition, or other presentation in front of a live audience which, in whole or in part, depicts or simulates nudity, sexual conduct, sexual excitement, or specific sexual activities … lewd conduct, or the lewd exposure of prosthetic or imitation genitals or breasts."
Past Pride parades are notorious for including all of those elements listed in the legislation.
In response to the legislation, the Florida LGBTQ group, Pride Alliance of the Treasure Coast, canceled its pride parade; causing many to wonder why.
Why not just change it from all ages to 21 and over, as it should have been in the first place?
Why is having children in attendance so important to this LGBTQ group?
It's pretty clear that to them there is no point in celebrating if children can't be sexualized in the process.
"Many all of you know, the political climate that we are currently in has us all very concerned for our community.," the organization wrote on its website. "After multiple meetings with city officials, it is with a heavy heart that Pride Alliance of the Treasure Coast has to announce that this weekend's Pridefest will now be a 21 and older event. The city has decided that with the on the side caution and require us to make this change. We are obviously upset and dishearten that it has come to this. We also regret to announce that we will have to cancel our plans to bring back our beloved parade."
The organization went on to say that they are working on planning a "family-friendly" event where LGBTQ youth can "celebrate who they are."
"We hope that everyone understands that this definitely not what we wanted at all and are working with the city to assure our safety as well as produce a positive event," the organization continued in their announcement. "We have held off as long as we could making this announcement as we were hoping it would not have to be made. We hope that everyone still supports out community and attends this event! We will be making an announcement in the near future about a family friendly Party in the Park where our youth can celebrate who they are!"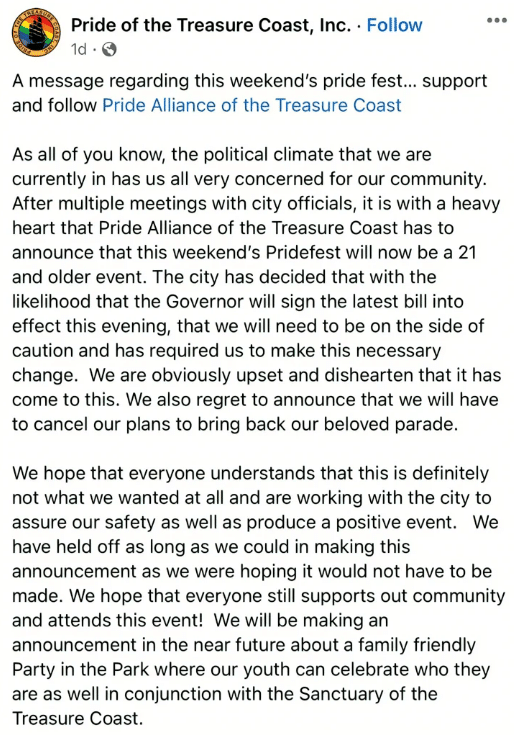 From CBS News:
The legislation, which awaits the governor's signature, would allow the state to revoke the food and beverage licenses of businesses that admit children to adult performances.

The DeSantis administration has moved to pull the liquor license of a Miami hotel that hosted a Christmas drag show, alleging children were present during "lewd" displays.