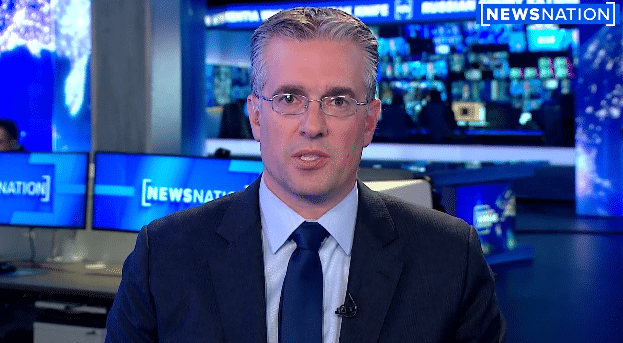 Sarah Jane Comrie, a pregnant physician's assistant in New York, has been falsely accused of being a white supremacist, threatened, vilified, mocked and doxxed after an intentionally out-of-context video surfaced, which gave the impression that she was attempting to steal a Citibike from 5 giant black men.
The video went viral, leading to her own hospital turning its back on her and placing her on leave to appease the mob of racist morons.
The once celebrated hospital employee is now in hiding due to receiving threats against herself and her family, following the race-hoax.
Watch:
It turns out that she literally has the receipts, proving that she paid for the rental bike.
Justin Marino, Comrie's lawyer, said they intend to file a defamation lawsuit against the media who defamed her.
"The receipts show unequivocally that she got the bike first," her lawyer told the Daily Mail. "But there is no animosity towards the men in the video. We frankly wish them the best in the future. The focus is clearing her name and going after the publications and high profile names that defamed her."
Watch:
"We are aware of the video involving a health care provider off duty and away from the hospital campus," the woman's employer tweeted on Tuesday. "The incident in the video is disturbing. The provider is currently out on leave and will remain on leave pending a review. As a health system we are committed to providing an environment for our patients and staff that is free from discrimination of any kind."
Twitter's community notes enabled users to fact-check those accusing Comrie:
The woman has provided receipts to her lawyer showing she had paid for the bike. Insider obtained a receipt revealing payment made for a Citi Bike on the evening of May 12 in Manhattan. The receipt shows that the bicycle was relocked to its dock just a minute later, with no additional charges recorded.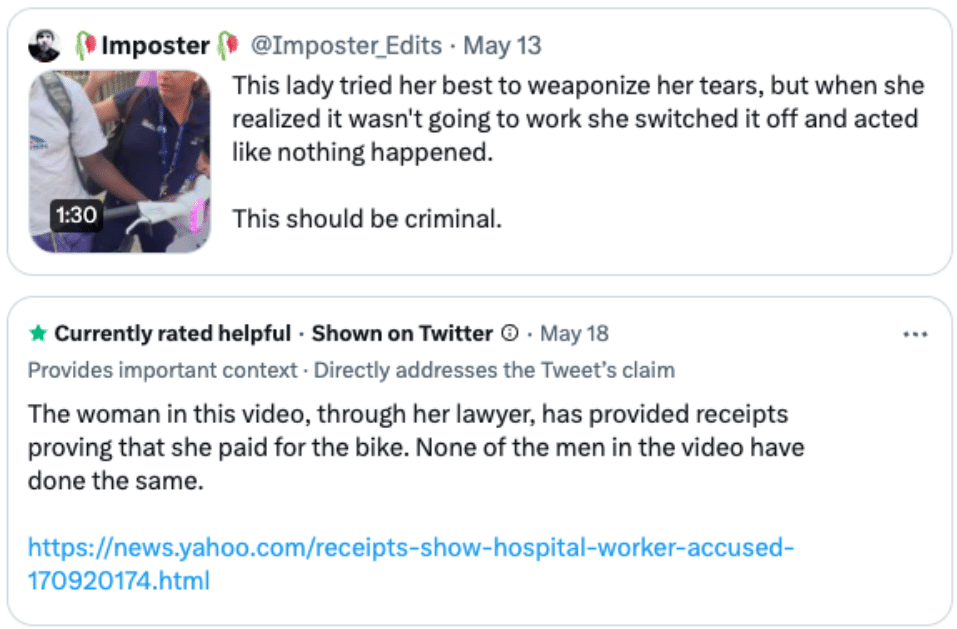 Insider reported:
"It was her bike," the woman's lawyer, Justin Marino, said in an interview with Insider on Thursday.

Marino said that bike was pushed back into its docking station after the young Black man and his friends told the woman — a pregnant NYC Health + Hospitals/Bellevue staffer — that the man had already paid for the same bike.

"She had reserved it, and then they pushed the bike back into the docking station, preventing her from taking it out again," Marino told Insider.

Another receipt provided to Insider showed payment for a second Citi Bike taken from the same docking station one minute after the first bike was relocked. That receipt also showed a 25-minute trip that Marino said was his client's ride home after the incident…

"I'm hoping the employer will not violate her rights and will do what's right and bring her back at some point," Marino said, adding that his client was planning to sue "against individuals and media organizations who defamed her."
This "journalist" with 40,000 followers is just one of many going after her, including broadcasting the fact that her home address was online.
"This is unacceptable!" Race-baiting attorney Ben Crump wrote. "A white woman was caught on camera attempting to STEAL a Citi Bike from a young Black man in NYC. She grossly tried to weaponize her tears to paint this man as a threat. This is EXACTLY the type of behavior that has endangered so many Black men in the past!"
He has since deleted his tweet. Unfortunately for him the internet is forever and once posted, nothing can ever be truly deleted.
Of course, not for a moment did the MSM have any skepticism about the story. To them, it was plausible that a tiny pregnant physician's assistant decided that she would steal a bike from 5 giant black men. After all, we have it on good authority that the United States is a hotbed of violent MAGA extremists and white supremacists.
Who cares if the physician's assistant fears for her and her family's safety, and loses her livelihood, her friends, and her reputation? White supremacy is "the most persistent and lethal threat" within the U.S., according to Biden's DHS.
This is our new reality.
Comrie should sue her employer, Bellevue Hospital, as well for their decision to place her on leave.
The only thing these people care more about than destroying a white person's life is money.
National radio host Todd Starnes compared her case to Nicholas Sandmann, who was defamed by the media based on a video clip.
Sandmann won $800 million in defamation lawsuits against a number of news outlets including the Washington Post, CNN, ABC, CBS, The Guardian, The Hill and NBC. CNN agreed to settle with Sandmann in January 2020 as part of a separate $275 million claim.