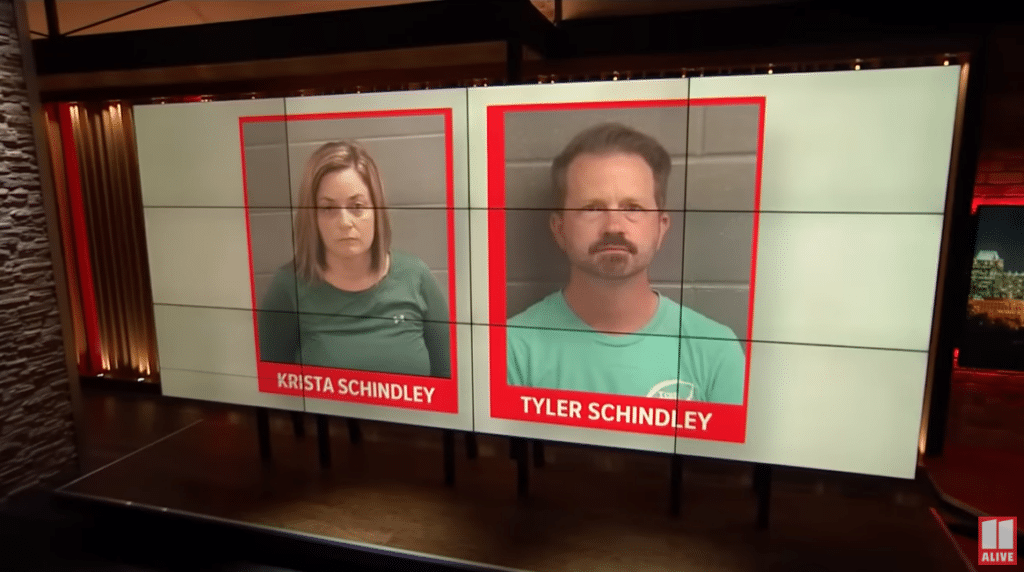 Police have arrested a couple in Griffin, Georgia after their 37-pound, 10-year-old son was found wandering the streets barefoot looking for food.
The little boy had been abused, locked up, and starved for years.
The parents from Hell, Tyler, and Krista Schindley, are accused of withholding food and medical treatment for their young son for several years. They are accused of attempted malice murder – Georgia's most serious murder charge.
The child also reportedly suffered beatings, which left him disfigured.
The couple had four other children in the house when they were arrested. There is no word yet on their condition. All of the children were put in protective services.
Two other children ran away from the home in Griffin to Tyler Schindley's ex-wife's home in Ohio.
Neighbors are shocked and believe that there may be even more secrets hidden in the home, according to 11 Alive.
Watch the report from 11 Alive:
The Daily Mail reported:
Melissa Waynette of Ohio said the 10-year-old boy who was allegedly starved and abused by Tyler and Krista Schindley was not hers, but that two of her children she shared with Tyler had also lived in Griffin, GA with the couple until recently.

One of her sons escaped the home two years ago after tracking down Waynette through social media, while the other, she said, was returned to her two months ago.

'They [the Schindleys] just called me one day and said pick him up at the airport tonight and sent him with nothing,' said Waynette, in an interview with Atlanta News First on Wednesday. 'I don't really know why the decision was made to send him away. My older son ran away from home when he was 17 and was able to find me through social media,' she said.

Tyler and Krista Schindley were arrested after their emaciated son was found wandering around their upscale Griffin neighborhood in search of food.