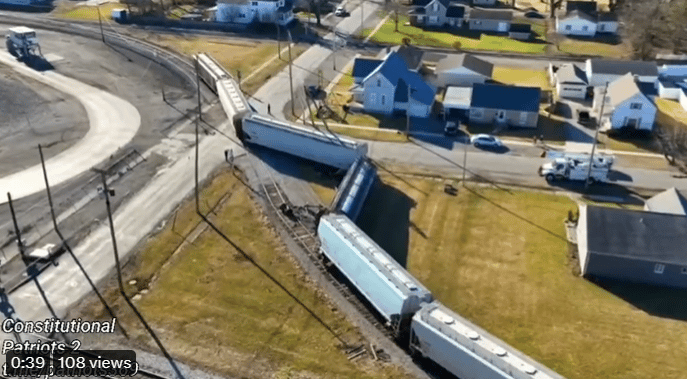 The train derailment in East Palestine and the subsequent "controlled burn" of highly toxic chemicals has caused possibly the biggest environmental catastrophe in American history.
Trains have continued to derail across the country following the disaster in Ohio.
Despite the obvious risk to residents' safety, officials continue to insist that it is safe to return home… the water is safe to drink, and the air is safe to breathe.
Pete Buttigieg has not visited the area and blamed the disaster on President Trump.
While billions upon billions of taxpayer dollars have gone to Ukraine, the Biden administration outright refused to provide assistance to the residents of East Palestine.
Joe Biden has completely ignored the disaster in East Palestine and decided to spend President's Day in Ukraine, while President Trump plans to visit the area to meet with the residents and tour the damage.
The United States can't seem to keep foreign spy balloons out of our air space or trains on the tracks.
Maybe it would be best if Biden stayed in Ukraine and let someone else handle things here at home.
On Sunday, in another example of America's failing infrastructure under Joe Biden, there was another train derailment in Ohio.
The derailment occurred in Delphos and took out two electric poles, leaving over 100 households without power.
There were no injuries.
WLIO reported:
At 12:45am, a train came off the rails at the crossing on the intersection of Bank Street and South Bredeick Street. One of the hopper cars then struck and lifted two electric poles from the ground.

The intersections of Bank Street and Bredeick Street as well as Bank Street, Ohio Street, and State Street were closed, as the train was blocking the crossings at the time.

According to the Delphos Fire Department, there were no injuries, and the area has been cleared as of Sunday afternoon.
Watch: