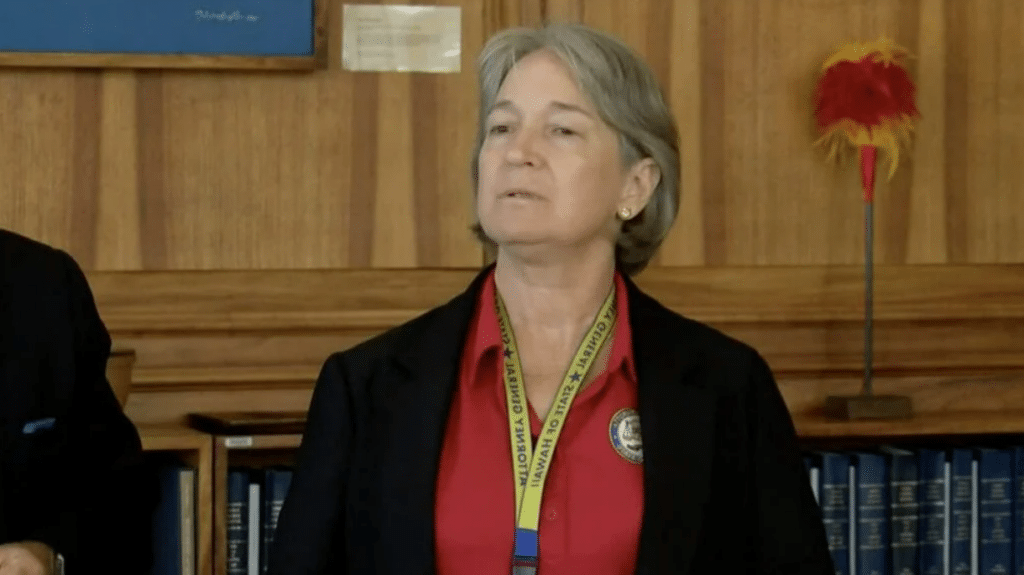 Hawaii State Attorney General Anne E. Lopez has opted not to release initial findings to the public regarding the extensive Maui fires that occurred on August 8th.
This decision is supposedly aimed at safeguarding the ongoing investigation's integrity, as indicated in a statement from the Department of the Attorney General. However, concerns have arisen regarding the transparency of the inquiry, with local residents questioning whether this "independent investigation" will genuinely remain impartial.
Liberals have a problem with the truth…

Hawaii State Attorney General Anne E. Lopez has decided to withhold initial findings from the public regarding the massive Maui wildfires pic.twitter.com/3YYaxQPq1h

— A Man Of Memes (@RickyDoggin) September 12, 2023
Attorney General Anne E. Lopez has also announced the involvement of the Fire Safety Research Institute (FSRI), a nonprofit organization, as an independent third party to conduct the investigation. FSRI, contracted with Underwriters Laboratories Inc., has been granted subpoena power under HRS 28-2.5, as reported by The Honolulu Star-Advertiser.
The team of investigators comprises former firefighters, fire scientists, and incident commanders. Their mission is to assess the preparedness and response of state and county agencies to the devastating fire.
"I am committed to an independent, unbiased, and transparent investigation into government actions during the fires. This type of investigation is a hallmark of a healthy democratic society and will lead to improved responsiveness and resilience in the future, " Lopez told the Honolulu Star-Advertiser.
"All state and county agencies answer to the people of Hawaii, and I fully expect that they all will voluntarily give interviews and provide documents relevant to the investigation."
As reported by the news outlet, "FSRI's team of former firefighters, including inspectors, fire scientists and incident commanders, started work on Maui on Aug. 24 and are updating Lopez and her team every two weeks, with the first update coming last week."
Despite the state Attorney General's commitment to transparency, concerns about impartiality persist, as Attorney General Lopez's office will ultimately decide which information to disclose to the public, at least in the initial stages.
According to Hawaii News Now, the state attorney general released a statement:
The Attorney General is committed to a full, comprehensive, and transparent investigation, with the reports of that investigation shared with the public. While we will not speculate as to future hypothetical circumstances, we note that in any investigation, publicly revealing some information prematurely could compromise other aspects of the investigation that remain ongoing. In any investigation, information may be withheld temporarily to protect the integrity of the investigatory process.