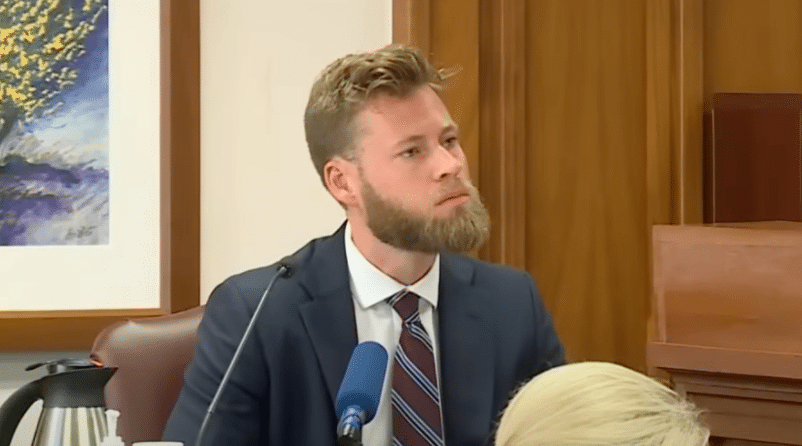 Infowars reporter and War Room host Owen Shroyer received a 60-day prison sentence. Owen was positioned outside the Capitol and advised Trump supporters against entering the US Capitol building.
Additionally, Owen regularly spoke out against the stolen 2020 presidential election.
For this reason, Prosecutors from the Department of Justice sought prison time for Owen.
Even though he didn't personally enter the Capitol building, the Department of Justice argues that his influence was evident, as many of those who followed his reporting did enter.
According to the DOJ's memorandum, "Shroyer helped create January 6."
After nearly two years of contesting charges linked to his presence in the vicinity of the U.S. Capitol on January 6, 2021, Owen opted to plead guilty to a lesser offense.
In doing so, Shroyer permitted the government to scrutinize his social media accounts, presumably in search of any potentially incriminating content.
Owen Shroyer who told people not to go inside, 120 days

Enrique Tarrio who wasn't even present on that day, 22 years

Epstein clients, 0 days

Just thought you might want an update on how laughable the justice system is

— Liberty Lockdown w/ Clint Russell (@LibertyLockPod) September 7, 2023
Today, DOJ prosecutors imposed a 120-day prison sentence on Owen Shroyer for "speech crimes."
From NBC News:
WASHINGTON — A host of the far-right media outlet InfoWars was sentenced Tuesday to 60 days in prison for his role in the Jan. 6 attack on the U.S. Capitol.

Owen Shroyer is one of only a handful of Jan. 6 participants charged with a crime despite neither entering the Capitol building nor being accused of committing violence or destruction on Capitol grounds. Prosecutors charged Shroyer because he had previously signed a deferred prosecution agreement after interrupting a congressional hearing in 2019 and had agreed as part of that case not to utter "loud, threatening, or abusive language, or to engage in any disorderly or disruptive conduct, at any place upon the United States Capitol Grounds."

About 1,100 defendants have been charged in connection with the Jan. 6 U.S. Capitol attack, and more than 600 have been sentenced, including more than 370 to periods of incarceration.
The future of America is not looking so good.
🚨 NEWS Host JAILED
For Reporting the NEWS

🚨 OWEN SHROYER SENTENCED
TO 60 DAYS IN FEDERAL PRISON

Sep 12, 2023 Greg Reese https://t.co/3C2aqTqQ4t

The criminals who have hijacked our government are letting us know that America is over and we are now their slaves

Elections… pic.twitter.com/mWAq96252m

— INFOWARS USA (@InfoWars_tv) September 12, 2023