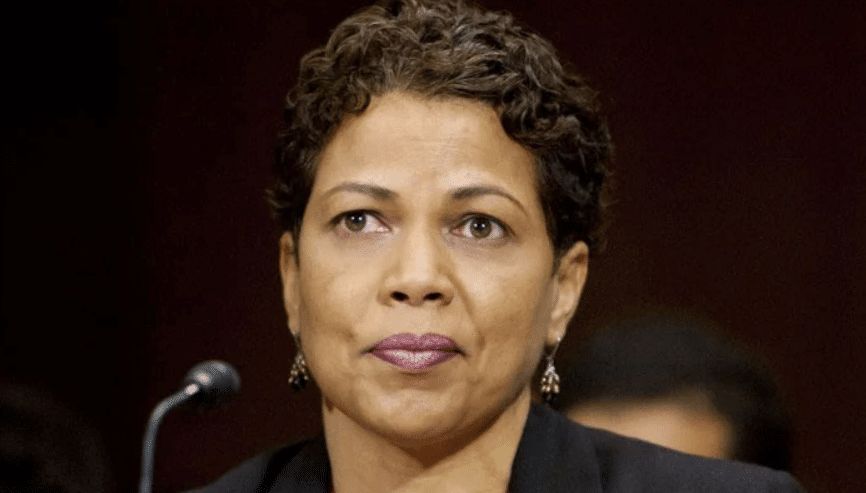 Citing prejudicial comments made by Judge Tanya Chutkan in previous January 6 cases she presided over, President Trump, through his legal representatives, filed a motion in D.C. federal court on Monday, requesting Judge Chutkan's recusal in the case brought against him by Special Counsel Jack Smith. This case pertains to Trump's challenge of the 2020 presidential election results.
In the event that Judge Chutkan declines to step aside, Trump retains the option to appeal her decision to an appeals court.
Judge Chutkan has scheduled Trump's trial for March 4, 2024, which coincides with the day before the Super Tuesday presidential primary. Trump's legal team vehemently objected to this early trial date, citing the over 12 million pages of evidence collected by the Department of Justice for the case.
Judge Chutkan's biased remarks against Trump were recently brought to light by independent investigative journalist Julie Kelly:
But even as she warns Trump about his "inflammatory" language, Chutkan has routinely issued politically charged rulings and made incendiary statements of her own while presiding over some 30 cases involving Trump supporters charged in connection with the Jan. 6, 2021, melee at the U.S. Capitol. 

A review of thousands of pages of hearing transcripts reveal that Chutkan has repeatedly expressed strong and settled opinions about the issues at the heart of United States v. Donald Trump – the criminal case she is now presiding over.

These include her public assertions that the 2020 election was beyond reproach, that the Jan. 6 protests were orchestrated by Trump, and that the former president is guilty of crimes. She has described Jan. 6 as a "mob attack" on "the very foundation of our democracy" and branded the issue at the heart of the case she is hearing – Trump's claim that the 2020 election was stolen – a conspiracy theory.

Although judges often make comments from the bench, Chutkan's strident language raises questions about her impartiality in handling the case against the presumptive GOP nominee for president in 2024.

The U.S. code that addresses grounds for recusal states, "Any justice, judge, or magistrate judge of the United States shall disqualify himself in any proceeding in which his impartiality might reasonably be questioned." One reason to recuse is if the judge has demonstrated "a personal bias or prejudice concerning a party."

…

Before sentencing Christine Priola, a Trump supporter from Ohio who pleaded guilty to obstruction of an official proceeding, to 15 months in jail, Chutkan appeared to lament the fact Trump was not yet in prison. "[The] people who mobbed that Capitol were there in fealty, in loyalty, to one man – not to the Constitution, of which most of the people who come before me seem woefully ignorant, not to the ideals of this country, and not to the principles of democracy," Chutkan said on Oct. 28, 2022. "It's a blind loyalty to one person who, by the way, remains free to this day." (Emphasis added.)
Mark Levin devoted the first part of his Fox News show Life, Liberty & Levin Sunday night to Julie Kelly's investigation into Judge Chutkan's blatant bias.
Watch:
Last night, @marklevinshow devoted the first part of his show to my investigation into Judge Chutkan's in-court statements related to Trump and January 6.

Today, Trump's lawyer filed a recusal motion that cited passages from my report at @RCInvestigates pic.twitter.com/5Ye8ppbPDv

— Julie Kelly 🇺🇸 (@julie_kelly2) September 12, 2023
Fox News reported:
Donald Trump wants the federal judge in DC presiding over his 2020 election subversion case to recuse herself.

In a recusal motion filed Monday, the former president's lawyers take aim at U.S. District Judge Tanya Chutkan, a former assistant public defender who was nominated to the bench by President Barack Obama.

Trump's lawyers argued that Chutkan has made statements in the past that call into question whether she can be impartial.

In their filing, they pointed to Chutkan having previously suggested that Trump "should be prosecuted and imprisoned."

"Such statements, made before this case began and without due process, are inherently disqualifying," the motion states. "Although Judge Chutkan may genuinely intend to give President Trump a fair trial – and may believe that she can do so – her public statements unavoidably taint these proceedings, regardless of outcome."
This just in: Trump's attorneys have filed a motion of recusal for radical partisan anti-Trump judge Tanya Chutkan to be removed from the J6 case https://t.co/Yu4KRx6VtW

— Kyle Becker (@kylenabecker) September 11, 2023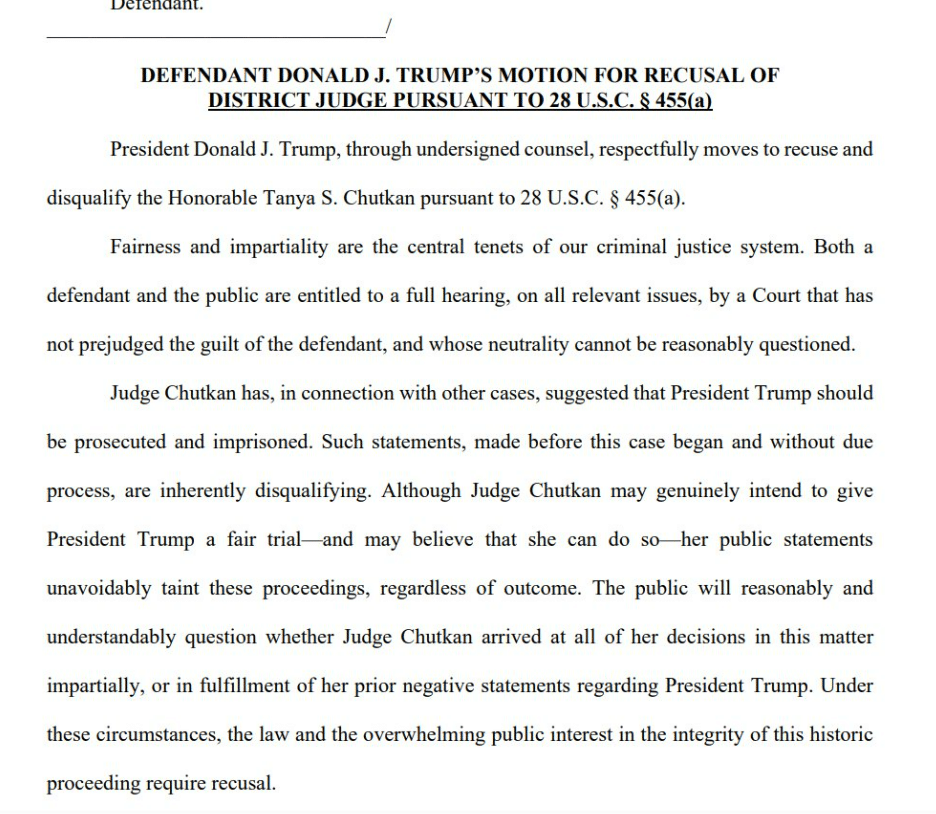 The motion cites comments made by Chutkan that I first reported at @RCInvestigates pic.twitter.com/EO1iTuHsel

— Julie Kelly 🇺🇸 (@julie_kelly2) September 11, 2023