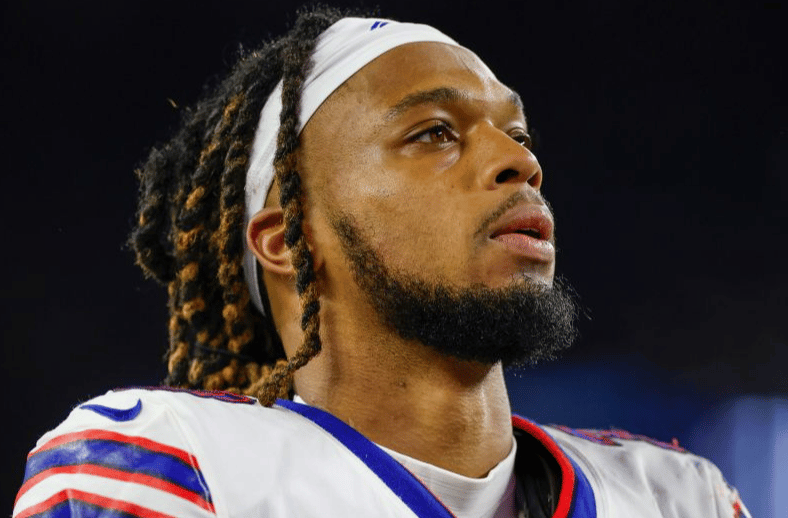 As Breaking Digest reported, Buffalo Bills player Damar Hamlin collapsed and was taken off of the field via ambulance Monday night.
Damar collapsed after making a tackle on Cincinnati Bengals wide receiver Tee Higgins in the first quarter of the ESPN Monday night game in Cincinnati. The game was suspended with 5:58 left in the first quarter with the Bengals ahead 7-3, and later was postponed by the NFL.
It was later revealed that Damar has suffered a cardiac arrest and was in critical condition, The Buffalo Bills said in a statement.
"Damar Hamlin suffered a cardiac arrest following a hit in our game versus the Bengals. His heartbeat was restored on the field, and he was transferred to the UC Medical Center for further testing and treatment. He is currently sedated and listed in critical condition."
The Bills tweeted on Wednesday afternoon that Hamlin remains in the ICU in critical condition, but is showing signs of improvement.
"Damar remains in the ICU in critical condition with signs of improvement noted yesterday and overnight. He is expected to remain under intensive care as his health care team continues to monitor and treat him."
On Thursday, it was reported that Damar had regained consciousness after being hospitalized for four days.
The doctor reported that Hamlin regained consciousness on Wednesday night, but he still cannot talk. He is still attached to a breathing machine.
When Damar asked the doctor who won the Bills-Bengals game in writing, the healthcare team responded, "You won. You won at the game of life."
Watch: