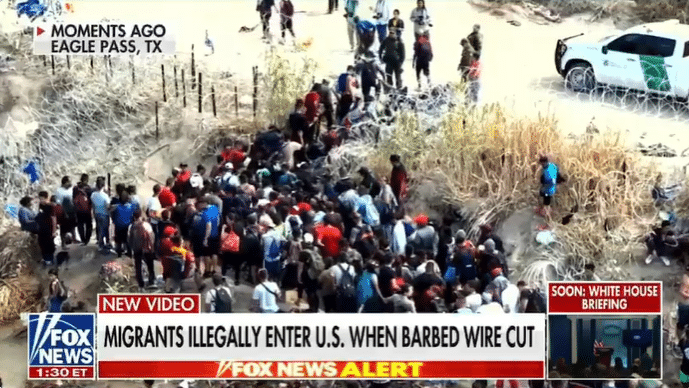 On Monday, At the Biden regime's direction, Customs and Border Protection cut a concertina wire barrier and allowed illegal aliens to flood into Eagle Pass, Texas.
This is just the latest example of the Biden administration's failed immigration policies, which have led to a surge in illegal immigration through the southern border.
The criminal Biden Regime perpetuates this unconstitutional crisis. There no end in sight for this invasion.
"Eagle Pass, Texas where just moments ago, Customs and Border Protection cut a hole through the concertina wire that has been stretched by Texas DPS along the border there to allow migrants to come through. It was initially a group of about 60 to 70 people. It swelled to some 300 very, very quickly."
Watch:
Eagle Pass, Texas just moments ago:

Under Biden's direction, Customs and Border Protection cuts Texas DPS barbwire barrier keeping out the hordes of illegals.

Invasion by design. pic.twitter.com/XDBWSRFEsE

— Charlie Kirk (@charliekirk11) September 25, 2023
Breaking Digest previously reported that a group of illegal aliens from Venezuela claimed an island in Eagle Pass Texas by placing the Venezuelan flag on it.
The DPS Tactical Marine Unit immediately took the flag down.
Watch:
The #EaglePass area continues to experience an influx of illegal immigrants – the majority from Venezuela. Some decided to claim a #Texas island by placing a foreign flag – that was quickly taken care of by our DPS Tactical Marine Unit. #DontMessWithTexas pic.twitter.com/mslxjXIyEC

— Chris Olivarez (@LtChrisOlivarez) September 25, 2023
Eagle Pass and El Paso, Texas, are being overwhelmed by illegal aliens. The situation has escalated to the point where the Democrat Mayor of Eagle Pass has declared an emergency.