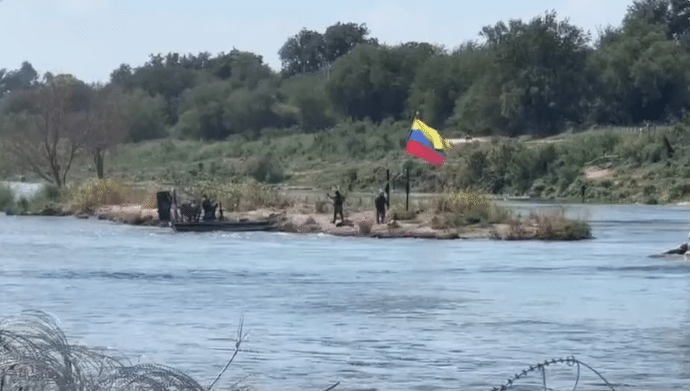 This is what an invasion looks like.
Military-aged men from various parts of the world are illegally entering the United States with Joe Biden's approval.
Over the past week, a continuous stream of adult males from Venezuela has been crossing the border into Texas.
Per CBP, in the past 24 hours, they have encountered over 11,000 illegal aliens at the border.
🚨 BREAKING: There were 11,000 illegal immigrant encounters over the past 24 hours — "the single highest day in recent memory" pic.twitter.com/FRAf2VYSIq

— RNC Research (@RNCResearch) September 25, 2023
Eagle Pass and El Paso, Texas, are being overwhelmed by illegal aliens. The situation has escalated to the point where the Democrat Mayor of Eagle Pass has declared an emergency.
Enormous group of predominantly single adult men now waiting to be processed by Border Patrol. More are still crossing right now. Never ending line coming in. No fear of consequences for crossing illegally. They expect to be released into the US after processing. pic.twitter.com/Nd4cZcNgRc

— Bill Melugin (@BillMelugin_) September 20, 2023
Illegal aliens from Venezuela claimed an island in Eagle Pass Texas by placing the Venezuelan flag on it. 
The DPS Tactical Marine Unit immediately took the flag down.
Watch:
The #EaglePass area continues to experience an influx of illegal immigrants – the majority from Venezuela. Some decided to claim a #Texas island by placing a foreign flag – that was quickly taken care of by our DPS Tactical Marine Unit. #DontMessWithTexas pic.twitter.com/mslxjXIyEC

— Chris Olivarez (@LtChrisOlivarez) September 25, 2023