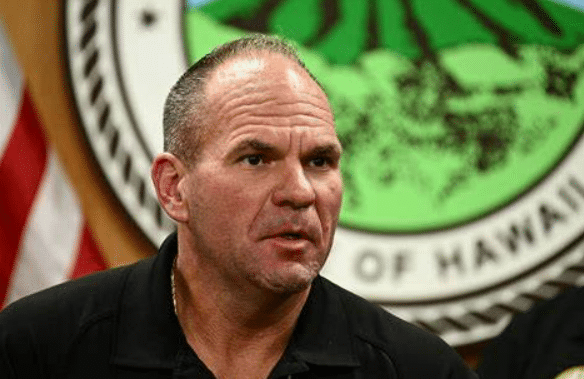 This new revelation is bound to undermine the American public's faith in ever learning the true cause of the Maui fires. Instead, the American public can expect a cover-up.
The catastrophic wildfires in Maui have resulted in nearly 100 fatalities, leaving roughly 1,000 people still unaccounted for.
People were reportedly jumping off of cliffs into the ocean to escape the fire and smoke and the historic town of Lahaina was essentially wiped off of the map.
However, the situation takes a more troubling turn. Emerging reports reveal that the current Maui Police Chief, John Pelletier, held the position of incident commander during the 2017 Las Vegas massacre, the deadliest mass shooting in U.S. history. The incident commander holds the highest authority, responsible for delegating responsibilities and considering advice from specialized professionals to ultimately manage and resolve the situation.
Here is an excerpt from a November 2021 article in the Honolulu Civil Beat regarding Pelletier's move to Maui.
He's seen his share of violence, having shot at three suspects and killed one of them, according to reports from Las Vegas media. In 2017, Pelletier was the incident commander for a mass shooting at a country music festival that left 58 people dead.
Talk about your bad luck… Imagine being the Incident Commander for the deadliest mass shooting in U.S. history and then you move to Maui where the deadliest "wildfire" hits, which essentially wipes an entire town off of the map.
They will say this is just a coincidence.
Stephen Paddock allegedly murdered 60 people when he opened fire from his hotel room at the Mandalay Bay in Las Vegas. But local authorities and the FBI never gave the public answers regarding why he would want to murder these innocent people, raising red flags about a cover-up.
Local authorities completely botched the crime scene investigation and authorities changed the timeline multiple times.
Earlier this year, the FBI decided to push the highly implausible theory that Paddock was upset over how casinos treated him.
Additionally, in Las Vegas – one of the most surveilled cities in the world – we have never seen the surveillance footage that shows Paddock bringing luggage cart after luggage cart packed with weapons and ammo into the Mandalay Bay.
This disturbing revelation regarding Pelletier is certainly alarming conservatives, who understandably question whether this is just a mere coincidence.