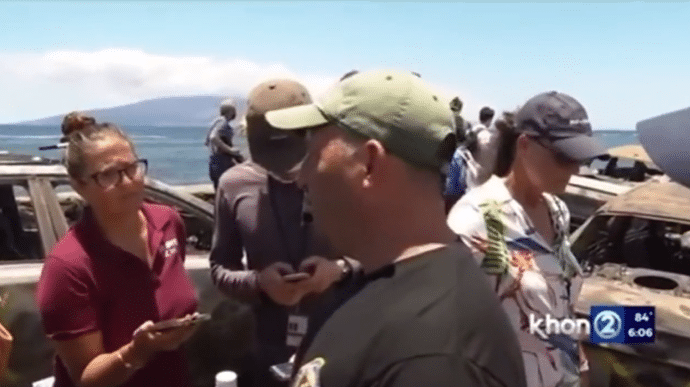 The current leadership in Hawaii has been accused of providing inadequate support in the aftermath of the deadliest "wildfire" in modern U.S. history.
Instances of delayed aid, a lack of relief supplies, and politicized explanations for the start of the fire all have the American people pointing fingers at incompetent authorities.
Although we lack conclusive information to make a judgment or determine the cause behind the wildfires, recent statements made by Hawaii Governor Josh Green are only adding to the concerns.
The devastating fires in Maui tragically led to 99 deaths. Concerns have arisen among officials over the possibility of the death toll rising further, given that only a mere 25% of the burnt area has been searched so far.
Amidst the heartache of locals losing their homes and dear ones, they now also face the unsettling prospect of opportunistic developers seeking to exploit their misfortune.
This Monday, Josh Green, the Democrat Governor of Hawaii, announced that his administration is actively thinking of ways for the state to acquire properties in Lahaina that have been ravaged by the fires.
He then proceeded to tell reporters that the land might potentially be utilized to accommodate workers and serve as a location for a memorial.
Green's announcement has prompted speculation about the true nature of the "wildfire" and if the fire was really "wild" at all.
Watch:
The Post Millennial reported Green's full statement:
"I'm already thinking of ways for the state to acquire that land so that we can put it into workforce housing, to put it back into families, or make it open spaces in perpetuity as a memorial to the people who were lost."

"We want this to be something we remember after the pain passes as a magic place. Lahaina will rebuild. The tragedy right now is the loss of life.

The buildings can be rebuilt over time, even the banyan tree may survive, but we don't want this to become a clear space where then people from overseas just come and decide they're gonna take it. The state will take it and preserve it first."
According to Newsweek, Governor Green also issued the following warning:
"I've reached out to the Attorney General to explore options to do a moratorium on any sales of properties that have been damaged or destroyed," Green said in a press release.

"Moreover, I would caution people that it's going to be a very long time, before any growth, or housing can be built.

And so, you would be pretty poorly informed if you try to steal land from our people and then build here."