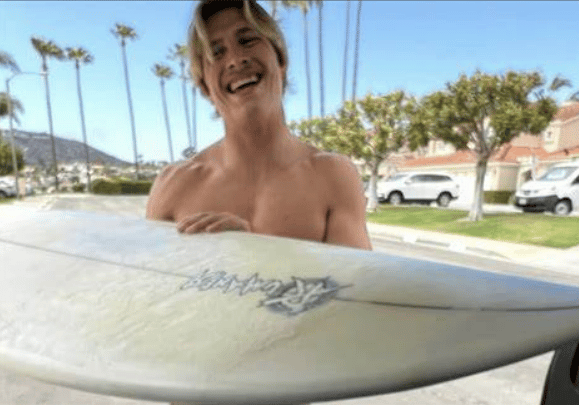 A twenty-one-year-old bodyboarder/surfer, Evan McMillen, died suddenly after collapsing while surfing on Saturday, Jan. 15.
Multiple reports claim that Evan died from a "surfing accident", however, that appears to be an assumption rather than a fact. The coroner has not yet determined the cause of Evan's death.
The cameras reportedly show Evan standing on his feet on his board, and then suddenly collapsing into the water.
He was found minutes later when he was given CPR and then rushed to the hospital, but it was too late.
FOX 11 reported the following on January 18 (bolding added for emphasis):
Man dies while surfing off Dana Point

An Orange County family is heartbroken after a man was killed while surfing over the weekend

DANA POINT, Calif. – An Orange County family is "heartbroken" after a man died while surfing over the weekend

He was 21 years old. Not much information about his death has since been released. According to the Orange County coroner's office, they have not yet determined his cause of death.

"I am beside myself with grief at the loss of my first nephew Evan," his uncle Christopher Luntsford, wrote on a GoFundMe campaign for McMillen's family. "His passing is a complete shock, to his family and friends, and all of those who knew him or were touched by him."…..

Dana Point, like much of Orange County and the rest of California, has seen loads of rain over the last few weeks, which have led to flooding and damages across Southern California. According to Orange County data, Dana Point has received more than three inches of rainfall in the last week, more than a third of the total rainfall the town's seen in the last seven months.

The National Weather Service issued a High Surf Advisory for coastal areas of Orange County on Sunday that continued through Tuesday night.

Alternative Surf, a bodyboard shop in Seal Beach, has shared multiple tributes to McMillen on its Instagram page.