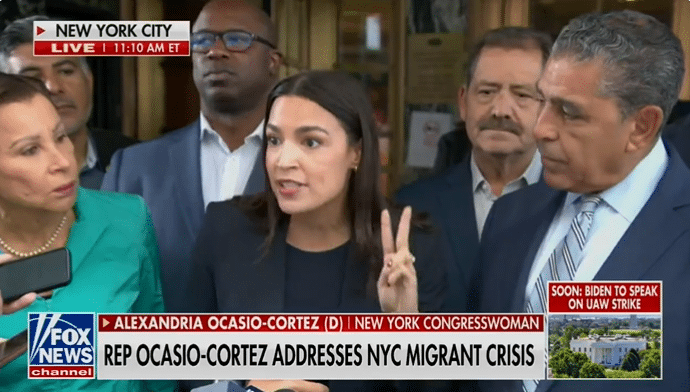 Alexandria Ocasio-Cortez (D-NY) and a group of fellow Democrat officials were loudly shouted at by angry New Yorkers during a press conference over the city's illegal immigrant crisis this morning.
Over 7 million illegal aliens have crossed the U.S. border since Joe Biden took residence in the White House in January 2021. Border communities in Arizona and Texas are overwhelmed by the massive invasion of illegal aliens.
Tens of thousands of illegal aliens have flooded New York City, a proud sanctuary city.
New York City mayor Eric Adams recently warned that the migrant crisis will "destroy New York City," as the illegals are taking over hotels, schools and homeless shelters.
AOC and other Democrats held their press conference outside Manhattan's Roosevelt Hotel on Friday, where they were loudly heckled at shouted down by the angry New Yorkers.
The Democrats delivered the usual Democrat talking points on illegal immigration when they were drowned out by the angry mob.
"Close the border! Close the border! Respect the constitution AOC! I am your constituent!" one angry man shouted into a megaphone.
"Illegal immigration is not right! Respect the constitution, close the border!" the man continued shouting.
Watch:
AOC shouted down by outraged New Yorkers pic.twitter.com/1iPN8RCpaI

— Citizen Free Press (@CitizenFreePres) September 15, 2023