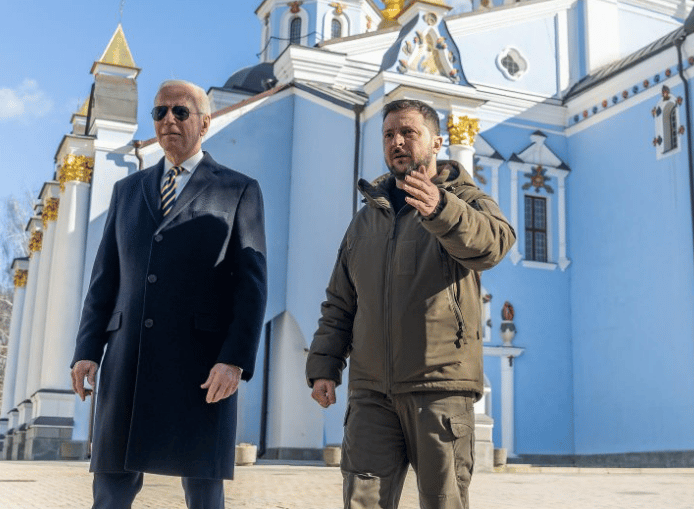 Joe Biden's handlers have chosen for him to spend President's Day in Ukraine and completely ignores East Palestine, Ohio, as the residents struggle to cope with the aftermath of the train derailment that led to a large release of toxic chemicals.
It's obvious where Biden's priorities lie. Maybe he should stay in Ukraine.
Meanwhile, President Trump has made plans to visit Ohio to meet with the residents and tour the damage caused by the chemical spill.
"As we approach the anniversary of Russia's brutal invasion of Ukraine, I'm in Kyiv today to meet with President Zelenskyy and reaffirm our unwavering commitment to Ukraine's democracy, sovereignty, and territorial integrity," Biden said in an official statement Monday. "When Putin launched his invasion nearly one year ago, he thought Ukraine was weak and the West was divided. He thought he could outlast us. But he was dead wrong…Over the last year, the United States has built a coalition of nations from the Atlantic to the Pacific to help defend Ukraine with unprecedented military, economic, and humanitarian support – and that support will endure."
Biden is facing severe backlash over his blatant America Last agenda, and he deserves every bit of it.
"Biden is headed to Ukraine. Trump is headed to Ohio. One of these things is not like the other. #AmericaFirst"
Rep. Matt Gaetz (R-FL), "When our border is in crisis, Joe Biden goes home to nap in Delaware. When Ohio burns with toxic chemicals, Biden's admin says everything is fine. So on Presidents' Day, I'm not surprised that Biden is ditching America for Ukraine. He ditched America's interests since the start of his presidency. They can keep him!"
Rep. Scott Perry (R-PA), "Breathtaking that President Biden can show up in Ukraine to ensure their border is secure, but can't do the same for America."
Rep. Marjorie Taylor Greene (R-GA) posted several comments, "This is incredibly insulting. Today on our President's Day, Joe Biden, the President of the United States chose Ukraine over America, while forcing the American people to pay for Ukraine's government and war. I can not express how much Americans hate Joe Biden."
"President's Day 2023. Zelenskyy can't even wear a tie as he greets the President of the United States. He gladly takes our money in sweat shirts and t-shirts, but Biden is dressed up. So insulting. America Last!!!"
"Biden didn't go to East Palestine, Ohio on President's Day. He went to Ukraine, a NON-NATO nation, whose leader is an actor and is apparently now commanding our United States military to world war. We must impeach this America Last fool before it's too late."
"Biden runs to Ukraine. Trump is going to Ohio. That's all you really need to know. It's that simple."
"Biden is in Ukraine Trump is heading to Ohio You couldn't make a more perfect example of America Last vs America First"
Benny Johnson, "Joe Biden visited Ukraine before the war zone of East Palestine, Ohio just and hour from DC. You will never seen a more intentionally insulting move by a US President. This cannot be understated. Cravenly cruel."
Joe Biden MUST be impeached.