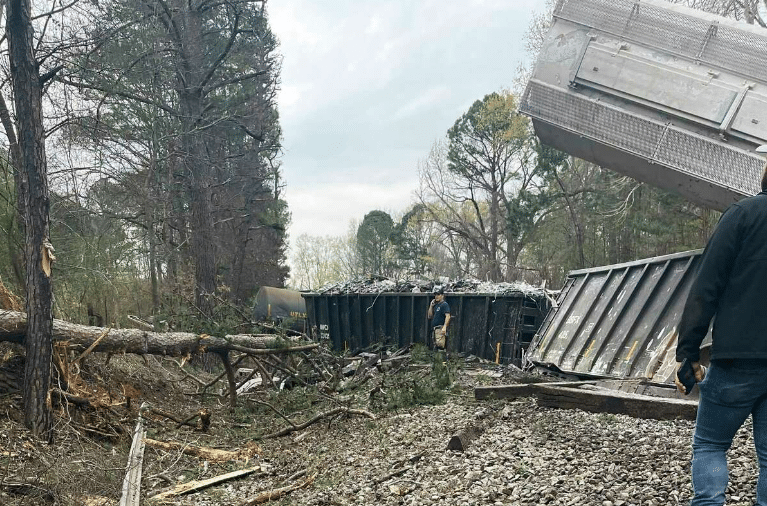 Another Norfolk Southern train derailed on Thursday morning.
This is the third Norfolk Southern train derailment in a little over a month.
The latest derailment from the railway occurred Piedmont, in Calhoun County, Alabama.
The Calhoun County Emergency Management Agency reported that around 37 train cars came off the tracks.
There were no injuries, and officials said there was no danger to the public.
The cause of the train derailment is under investigation.
"Everybody is safe,'' Sheriff Matthew Wade said.
"They have already amassed a large crew of people, and they have cranes, and they are feverishly working."
The Calhoun County EMA said on Facebook:
At approximately 6:45 am on March 9, 2023 Norfolk Southern had a train derailment in the White Plains area. Initial reports indicate approximately 30 cars derailed. There are no injuries and no reports of leaks of hazmat also, we have no road blockages.

Norfolk Southern has responded and is working closely with us. There is NO danger to the public.
Watch:
The derailment occurred just hours before Norfolk Southern CEO Alan Shaw appeared before Congress and apologized for the East Palestine train derailment.
"I want to begin today by expressing how deeply sorry I am for the impact this derailment has had on the residents of East Palestine and the surrounding communities," Shaw said.
Watch:
The Hill reported:
A Norfolk Southern Railway train derailed in northeast Alabama on Thursday as the company's CEO testified in front of Congress amid a string of high-profile incidents involving the rail giant.

The company said in a statement to The Hill that around 30 empty cars derailed as the train traveled from Atlanta to Mississippi.

"Norfolk Southern is responding to a derailment in Piedmont, Alabama," the statement said. "There are no reports of injuries and no reports of a hazardous materials release. We are working in close coordination with local officials."

Calhoun County Sheriff Matthew Wade confirmed the report that there were no injuries and also said that there was no damage to property, according to local news affiliate WBRC.

The derailment came as Norfolk Southern CEO Alan Shaw testified in front of the Senate on Thursday, after the company has faced intense scrutiny for a derailment in East Palestine, Ohio, earlier this year that sparked an environmental and public health disaster. 

The National Transportation Safety Board said this week that it was launching a special investigation into the company, noting that it had sent officials to investigate at least five different significant incidents involving the company since 2021.

An accident involving another Norfolk Southern train earlier this week left one employee dead, although the company said the cause of the accident was still undetermined.

The news of yet another derailment involving the company comes as the Biden administration and Norfolk Southern leadership continue to deal with the fallout of the incident in East Palestine.

Meanwhile, a rockslide in West Virginia on Wednesday derailed a CSX Transportation train, injuring three and causing diesel oil to spill into a nearby river.
Joe Biden still has not visited East Palestine, Ohio, where a Norfolk Southern train derailed leading to a "controlled burn" of highly toxic chemicals that has caused possibly the biggest environmental catastrophe in American history.
On President's Day, Biden decided to make a surprise visit to Ukraine, where he offered the country another 500 million U.S. taxpayer dollars, instead of visiting East Palestine, Ohio.