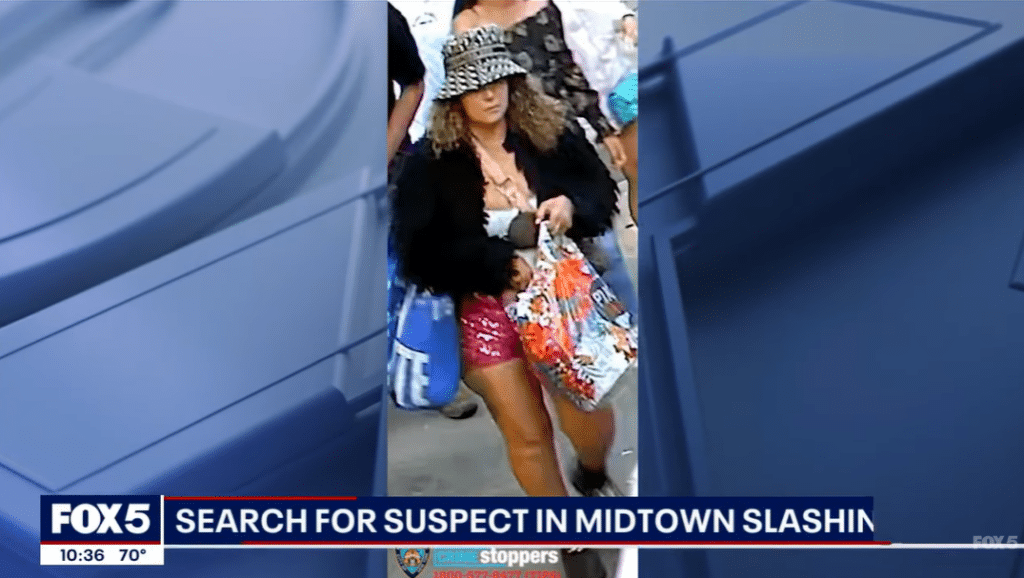 On Friday evening, a 65-year-old woman fell victim to a random attack outside a pizza shop in New York City.
The elderly woman endured a vicious slashing across her face inflicted by a large kitchen knife.
52-year-old Ola Albanni from Hoboken, New Jersey, was taken into custody on Sunday.
This incident was covered by the New York Post:
A New Jersey woman was arrested Sunday for allegedly slashing a bystander in the face with a kitchen knife in a seemingly random attack outside of a Manhattan pizza shop, police said.

Ola Albanni, 52, of Hoboken, NJ, was charged with the harrowing Friday evening attack in Midtown that left a 65-year-woman hospitalized with a gash under her eye, according to the NYPD.

Albanni allegedly approached the victim on the sidewalk outside 2 Bros Pizza on Eight Avenue and West 38th Street just after 6pm and slashed her across the face with "a large kitchen knife," cops said.

The victim was treated at Mount Sinai Hospital and released.
Watch the video report from Fox 5:
In 2023, violent crimes have soared in New York City thanks to Democrats and their soft-on-crime policies.
Meanwhile, the NYPD will be flying drones to spy on people's backyard BBQs over this holiday weekend.
JUST IN: New York City will be flying drones above people's backyards to spy on them this Labor Day weekend.

Try that in a small town…

During a press conference, assistant NYPD Commissioner Kaz Daughtry announced New York City would be "utilizing their assets" to "check on"… pic.twitter.com/pRzk5fjKMM

— Collin Rugg (@CollinRugg) August 31, 2023