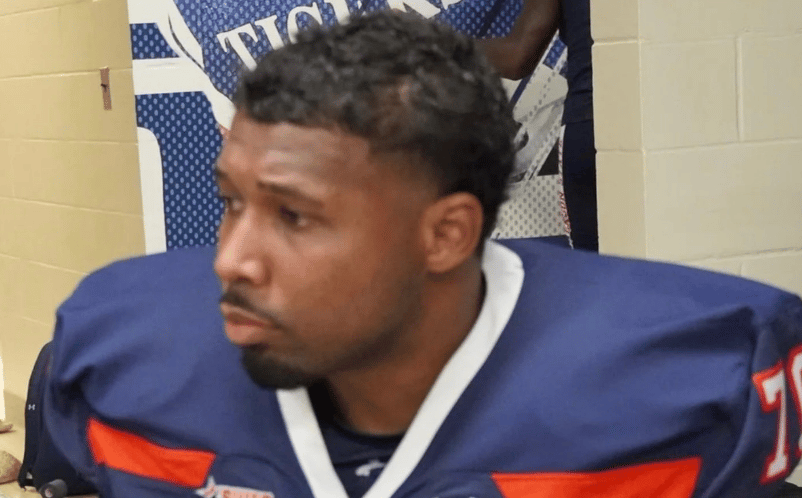 A 21-year-old football player from Jackson State had to be resuscitated after suffering cardiac arrest on Wednesday morning.
Kaseem Vauls, a defensive lineman from Jackson State's football team in 2022, suffered cardiac arrest Wednesday morning, prompting doctors to resuscitate him and put him on a ventilator, according to a series of tweets from his father, William.
He underwent surgery that afternoon. As of Thursday night, Vauls was reportedly in critical yet stable condition.
The Clarion Ledger reported (excerpt):
Jackson State football defensive lineman Kaseem Vauls, 21, is in stable condition, according to family, after having a cardiac arrest Wednesday morning.

Vauls' father, William, said doctors resuscitated him and put him on a ventilator before a surgery Wednesday afternoon. On Thursday evening, he told the Clarion Ledger his son remained heavily sedated and was in "stable condition, but still critical."

William Vauls said his son had not been feeling well for a couple of weeks, and that he had told his son to go to the emergency room. He also said Kaseem had been participating in activities with the football team but had not told coaches or trainers about stomach pains.

"What the doctors think happened," William Vauls said, "that when Kaseem's heart was failing, that what was giving him the stomach pains. His liver was suffering as fluid built up with toxins in his liver, kidneys and blood. All those toxins built up in his blood stream and his heart could not operate properly and the machine is being used to clean out the blood and toxins."

Kaseem Vauls went to the hospital Wednesday morning and William Vauls said a cardiologist told him his son's heart was functioning at 10-15%.
Late Thursday, Kaseem's father, William, posted an update on Kaseem's Twitter account:
Vauls' cardiac arrest comes just six weeks after 24-year-old NFL player Damar Hamlin went into cardiac arrest on the field during a Monday Night Football game.
Hamlin has since made a miraculous recovery but bizarrely, during an interview with Michael Strahan, Hamlin suggested that doctors had given him an official reason why his heart stopped beating but he refused to disclose what they told him.