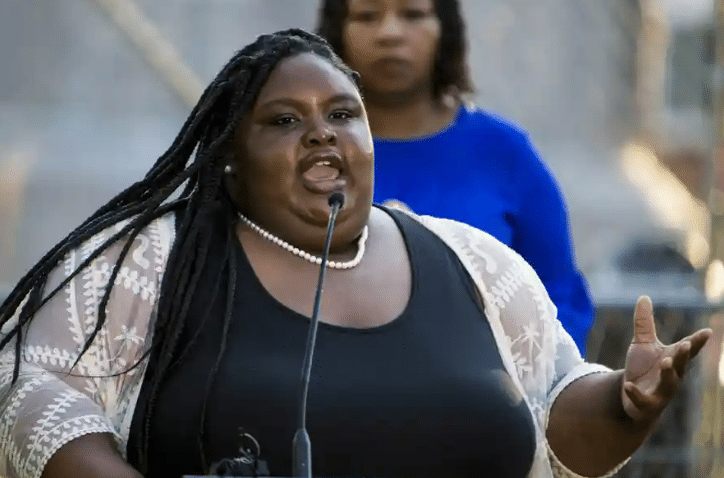 Dove has hired Zyahna Bryant to promote "fat liberation."
According to a report from the Daily Mail on Thursday, Dove, one of the most prominent beauty brands in America, has chosen to hire a morbidly obese Black Lives Matter (BLM) activist and anti-white racist. This decision comes in spite of her involvement in an incident three years ago, where she got a white student expelled from the University of Virginia (UVA) over a comment that Bryant now admitted she might have "misheard."
BLM activist Zyahna Bryant is the new face of Dove

So many people worldwide are now boycotting @Dove

Because this vile specimen destroyed a white student's life over a remark, she later admitted she 'misheard.' and never actually happened. She never apologised, but did CASH in pic.twitter.com/zBRje0i2ei

— On The News – Join The Conversation 🇬🇧 (@On_The_News_Ltd) September 18, 2023
Bryant, 22, has been recruited by Dove to promote "fat liberation" with the aim of ending the social stigma associated with obesity. The Daily Mail also points out that Dove has a history of aligning itself with woke causes that promote "body positivity."
Watch:
Zyahna Bryant ruined a white girl's life over a non-existent remark

Dove just did a brand partnership with her to support "fat liberation" pic.twitter.com/7mgaOuXQco

— End Wokeness (@EndWokeness) September 14, 2023
In July 2020, Bryant alleged that she had overheard Morgan Bettinger, a white student at UVA, making threats against BLM protesters in Charlottesville. Bryant asserted, without any evidence, that Bettinger had stated the protesters "would make good speed bumps."
Following these accusations, Bryant effectively destroyed Bettinger's reputation and caused her to fear for her life.
If you've never read @emmma_camp_'s story about Morgan Bettinger, you absolutely should.

She was the daughter of a police officer, a first generation college student, and dreamt of going to law school.

Zyhana Bryant ruined it all.https://t.co/x6444sE9cD

— Greg Price (@greg_price11) September 14, 2023
From the Daily Mail:
Bryant embarked on an email campaign to have Bettinger expelled, tweeting: 'EMAIL these UVA deans now to demand that Morgan face consequences for her actions and that UVA stop graduating racists.'

Bettinger was subsequently shunned at college, and even stalked around her hometown, making her fear for her safety.

UVA's Judiciary Committee later found Bettinger guilty of making a legitimate threat, despite being unable to prove Bryant's claim.

Bryant also filed a complaint with the school's Office for Equal Opportunity and Civil Rights (EOCR), where the student activist claimed Bettinger had made the statement five times and had discriminated against Bryant on the basis of race. EOCR ruled against Bryant on three of five counts.
Following the news of Dove's partnership with Bryant, #BoycottDove is trending on X (Twitter).
From the New York Post:
Beauty giant Dove is facing a Bud Light-style boycott for partnering with controversial Black Lives Matter activist Zyanha Bryant, who was previously accused of getting a white student expelled over "misheard" comments.

Some once-loyal customers even posted pictures of bars of soap in the trash after Bryant, 22, announced she was a "Dove ambassador" helping to promote "fat liberation."

"After hearing that Dove Beauty chose Zyanha Bryant — who ruined Morgan Bettinger's life — for their 'fat acceptance ambassador,' THIS lifelong large lady and now former Dove customer tossed out the last three bars of Dove products she will EVER buy," one, Carole Thorpe, tweeted Thursday night along with a shot of the bars in her trash.

Even Elon Musk weighed in as outrage spread across his social media platform X, the new name for Twitter.

"Messed up," he wrote alongside a clip of the BLM activist's
Call me old fashion, but what the hell is fat liberation? 🤔🤣🤣#BoycottDove this is disgusting. https://t.co/unSyRx5VZA

— Larry (@l_bministries) September 16, 2023
Dove wants to promote "fat liberation". Why do companies support self-destructive behaviors?

This young woman can't even go on a rollercoaster date because of her weight. What is so liberating about obesity?

#BoycottDove pic.twitter.com/94FFCYz8mW

— Judgy Emoji (@JudgyEmoji) September 15, 2023
#BoycottDove Trends After Brand Hires Anti-White Racist To Be 'Fat Acceptance Ambassador'https://t.co/vlxDeBH8sh

— Dinesh D'Souza (@DineshDSouza) September 15, 2023
Dove Soap hired morbidly obese BLM hoaxer Zyahna Bryant for an ad campaign based around "fat liberation."

While a student at UV-Charlottesville, Bryant viciously ruined another student's life by falsely claiming she joked about driving into BLM rioters.

#BoycottDove pic.twitter.com/tw9z5RklRa

— National Conservative (@NatCon2022) September 14, 2023