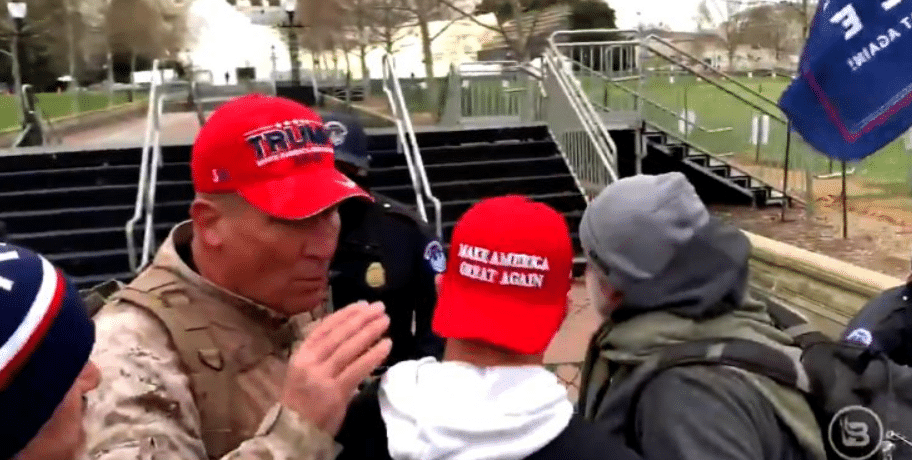 After nearly 3 years, Biden's Department of Justice has finally charged Ray Epps on Tuesday.
Ray Epps is the only protester caught on video encouraging Trump supporters to enter the US Capitol on January 5th and 6th.
The man who openly called for the storming of the Capitol, and was captured multiple times on video actively inciting a riot, manages to elude seditious conspiracy charges without facing terrorism enhancements, while others who never set foot inside the Capitol remain detained, tortured and isolated, in a Washington, D.C. jail.
Watch:
Ray Epps, the man in all the Capitol videos who instructed others to storm the Capitol, has been charged with a misdemeanor for disruptive conduct on restricted grounds. Meanwhile, men who weren't even present at the event have been sentenced to years in prison. pic.twitter.com/mWTHsEglHk

— Ian Miles Cheong (@stillgray) September 19, 2023
These people think Americans are stupid.
The DOJ's charging document against Ray Epps, which consists of one misdemeanor count for disorderly conduct, can be read below: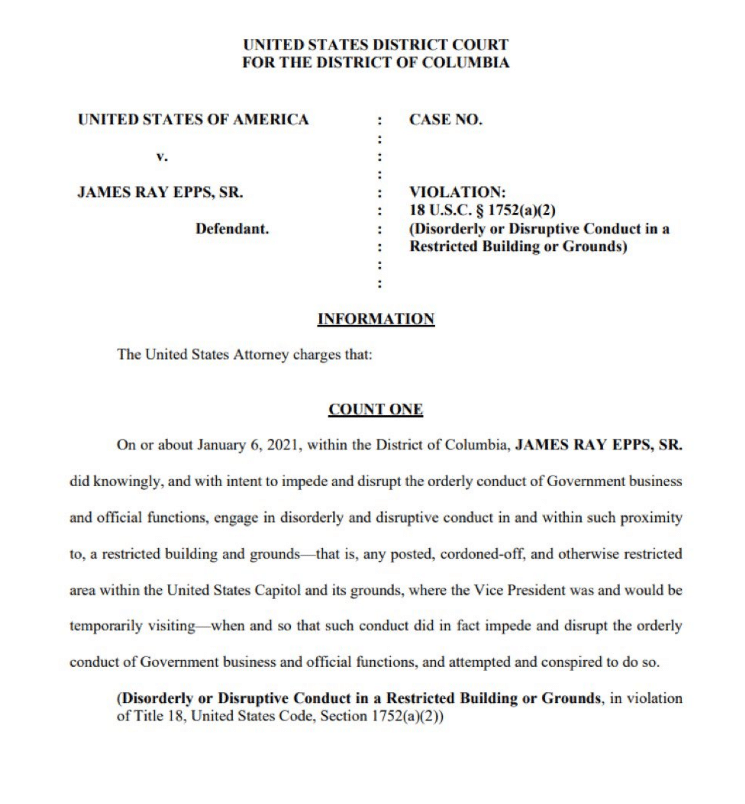 From Daily Mail:
Epps is accused of 'knowingly, and with intent to impede and disrupt the orderly conduct of Government business and official functions, engage in disorderly and disruptive conduct.'

It states that this was in and around 'any posted, cordoned-off, and otherwise restricted area within the United States Capitol and its grounds, where the Vice President was and would be temporarily visiting'.

He is also accused of 'impeding and disrupting' the 'orderly conduct of Government business and official functions, and attempted and conspired to do so.'

Thousands of others who gathered on the restricted grounds have not been charged unless they engaged in aggravating conduct, such as attacking cops or destroying property.

Epps was videotaped telling people to go to the Capitol, and has only just been charged – months after others were linked to the case.

The delay in charges gave rise to the theory that he was an FBI plant sent to whip up the riot.
Reactions:
This lame single charge tells us everything we need to know about Ray Epps.

No obstruction felony? No civil disorder charge? Not even a trespassing on restricted grounds misdemeanor?

Can't even tell you the last time I saw an "information" (misdemeanor version of indictment)… pic.twitter.com/zQ0rGT23ES

— Julie Kelly 🇺🇸 (@julie_kelly2) September 19, 2023
They charged Ray Epps with one charge of "disorderly conduct". 😂😂😂 You're not fooling anyone Feds. https://t.co/vbNw9UUS87

— Catturd ™ (@catturd2) September 19, 2023
One misdemeanor charge for the man caught on camera telling people "We need to go into the Capital."

The man who texted his nephew, "I Also Orchestrated It."

This isn't normal.

There's so much more to this story than they're telling us.
https://t.co/y04JSy7aT8

— Kari Lake (@KariLake) September 19, 2023
Not suspicious at all!

Nearly 3 years after J6, Ray Epps is finally charged … with "disorderly conduct."

That's right. The man who yelled for people to storm the Capitol, who was video taped mulitple times actually trying to incite a riot, somehow avoids seditious conspiracy… pic.twitter.com/gxGHcbiuOq

— Charlie Kirk (@charliekirk11) September 19, 2023