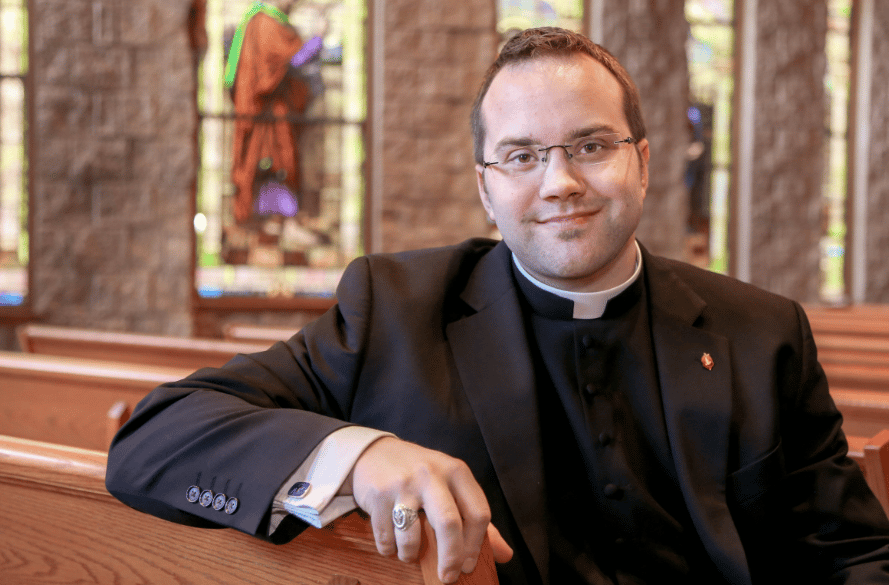 In a 25-minute video, Father Edward Looney detailed his 23-month journey with tachycardia since being vaccinated.
"I thank you for joining me this evening and I meant to do this yesterday, Friday, the day after I got released but just in the time of day and such and it just never worked out…..then today I had a wedding evening Mass. Thanks to Father Tony, he took up my other Mass so I didn't have to do three Masses back to back but could have a little break in between. He's in, though, his high 80's and he had a Mass on Washington Island, so it was a long day for him."
"He said, 'You're one of our young guys. You shouldn't be having heart problems right now so we need to take care of you so you can keep working.'"
"So I just want to share a little bit…a lot of people know that I was in the hospital on Thursday and then I was there for about 14 hours. I went into the emergency room at four o'clock, no…it was at 2:30 that I called somebody and then they came and they picked me up and they took me to the emergency room in Green Bay and then I was admitted…."
"You know sometimes you feel like you can't speak because of… because of…. whatever reasons… but I think it's important to share what's been going on… so I want to maybe go back to February 2021… it was highly encouraged that we get the Covid vaccine.
"And in fact, hospitals told us if we were not vaccinated, we would not be able to visit people in the hospitals. We were told we couldn't go to nursing homes if we didn't get vaccinated. If we didn't get vaccinated, there… there… where it almost seemed like, for the sake of your job…and you see this today on job resumes and applications…."
"So really, the vaccinations were pushed on us."
"It was February, I was in the first wave of people to get the Covid vaccine…and actually, that very first shot, I didn't have an immediate reaction."
"I get home and I realize my heart rate was higher than it normally was… that it was about 110, 115 beats per minute. I was really tired as a result of it."
Father Looney goes on to share that subsequently, his symptoms worsened.
Watch: