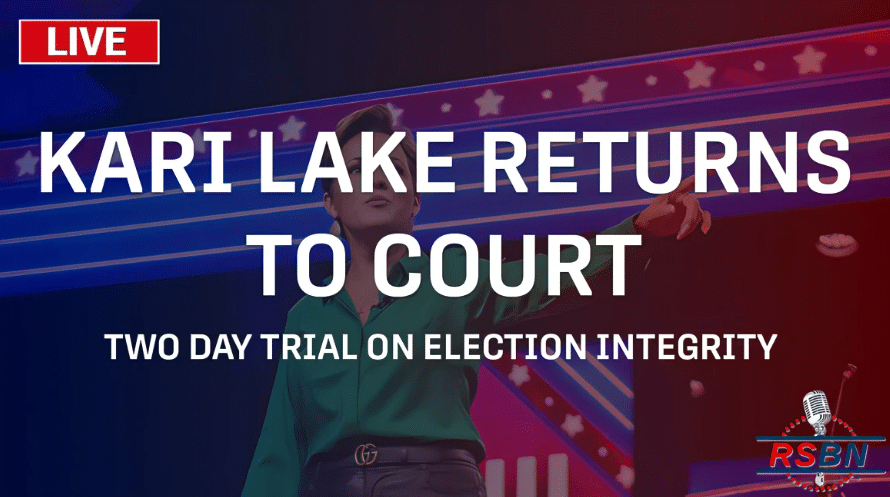 Multiple outlets reported yesterday that Kari Lake's election lawsuit is going back to trial.
"Following Supreme Court Ruling, Maricopa County Judge grants @KariLake the opportunity to EXPOSE Election Fraud IN COURT!" Kari Lake tweeted.
On Monday, Maricopa County Superior Court Judge Peter A. Thompson approved one count in Lake's lawsuit to move forward to trial.
The count moving forward is regarding signature verification procedures in the 2022 Arizona gubernatorial election.
Katie Hobbs was questionably "elected" by roughly 17,000 votes.
After the judge's ruling, the case moved forward to trial Wednesday.
Arizona's Family reported:
Lake's attorneys say the county accepted thousands of ballots that had been rejected by workers for having mismatched signatures. The Arizona Supreme Court revived her claim challenging the application of signature-verification procedures, reversing a lower court decision that found she waited too long to raise that claim. The state Supreme Court sent the claim back to the lower court to decide if there is another reason to dismiss it, or if Lake can show that enough votes were affected to change the outcome of the election, which she lost by over 17,000 votes. Thompson then ruled there is enough evidence to continue with trial, which starts on Wednesday.

The former gubernatorial candidate alleged that at least 164,000 illegal votes were counted, according to The Associated Press. Three signature verification workers have said they experienced rejection rates due to mismatched signatures on 15% to 40% of the ballots they encountered.

However, Gov. Hobbs' lawyers argue that Lake fails to show that specific mail-in ballots were illegally counted. They said the verification workers' speculation doesn't amount to a violation of the law or misconduct by election workers and raised questions about whether the three workers truly knew the ultimate outcome of the ballots they had flagged.
"You are about to see 90 seconds of the signature verification process where one person is verifying signatures as fast as they can load. Compared to the person sitting next to him," Kari Lake wrote describing a video showing the voter signature verification process.
Watch:
"This morning Kari Lake told Steve Bannon her team has three whistleblowers who will testify that over 130,000 ballot signatures did not pass signature verification, but election officials later counted them anyway," The Gateway Pundit reported.
Kari Lake's trial begins at 9 a.m. local time in the Maricopa County Superior Court.
The Gateway Pundit reported:
Lake must also "demonstrate at trial pursuant to her concessions that Maricopa County's higher level signature reviewers conducted no signature verification or curing and in so doing had systematically failed to materially comply with the law."

This is a high standard of evidence, but clearly, unscrupulous Maricopa County officials are allowing "subjective" and fraudulent signature verification.

As The Gateway Pundit reported, Maricopa County attorney Joe La Rue admitted Friday that signature verification is "subjective" and "something of an art" that is open to the interpretation of whatever activist reviews the signature. "It's not really an exact science," stated La Rue.

If the judge is fair, he will not allow the lying Maricopa County officials to get away with this crime.

The trial will be held from May 17-19 at the Maricopa County Superior Court Southeast Regional Public Service Facility in Mesa, Arizona.
Watch the trial LIVE via RSBN on YouTube: