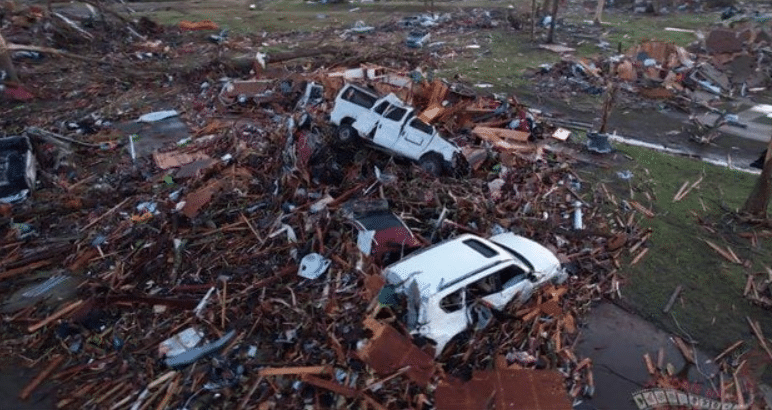 Search and rescue operations are underway after a violent tornado hit Mississippi and Alabama late Friday, killing at least 26 people and leaving dozens more wounded.
The Mississippi Emergency Management Agency said that search and rescue teams have been deployed to assist victims impacted by the storms. They also warned that the current total of fatalities would likely rise.
According to ABC News, the known fatalities occurred in Sharkey, Humphreys, Carroll, and Monroe counties. Thirteen people were killed in Sharkey County alone.
From ABC News:
Search and rescue operations are underway after a devastating tornado outbreak hit Mississippi and Alabama late Friday.

The extent of the damage was being assessed Saturday, though the severe storm has left at least 26 dead and dozens injured, authorities said. Sharkey County in western Mississippi, including the town of Rolling Fork, was particularly hard-hit.

"Houses gone. Gas stations destroyed. Trees, power lines blocking entrances everywhere. Stray animals. People wandering the streets clearly in shock," Storm chaser Edgar O'Neal, who was on the ground in Rolling Fork, told "Good Morning America." "We saw lots of first responders as well. Lots of people out there in the community helping, police, fire, rescue, other storm chasers."

Jourdan Hartshorn, the Mississippi coordinator for the volunteer organization United Cajun Navy, told ABC News that most of the buildings in Rolling Fork were damaged or destroyed.

"It's bad out here," Hartshorn said. "It's literally devastation. Ground Zero."

Based on first-hand accounts from the organization's volunteers in Rolling Fork, United Cajun Navy President Todd Terrell likened the extent of the devastation to "Joplin or worse," referencing the 2011 tornado that killed 161 people.

A Federal Emergency Management Agency Region team is responding to assist state authorities, officials said.

Mississippi Emergency Management Agency said it opened shelters in Rolling Fork, Belzoni and Amory, where the American Red Cross and other nonprofit organizations will offer food.

Volunteer Mississippi, the state office of volunteerism, is urging private citizens to not self-deploy to affected areas and to wait to see how they can help.

Here are ways to help those affected by the disaster.
Mississippi's Republican Governor, Tate Reeves, declared a state of emergency Saturday to all counties affected by the storms and vowed to utilize every resource to help those in need.
WTVA meteorologist, Matt Laubhan, was warning the residents of Amory, Mississippi live on-air and prayed to Jesus as a tornado approached.
Oh man, it's coming… Dear Jesus, please help them.
Watch:
The National Weather Service reported that one massive tornado was reported near the area of Silver City and Rolling Fork around 8:50 Central Time. The network issued an emergency alert with the following words: "To protect your life, TAKE COVER NOW!"
Here is a video of some of the damage in Rolling Fork.
One man tragically lost his parents when the tornado dropped an 18-wheeler onto their home:
A storm chaser, Zachary Hall, managed to capture footage of the tornado in Rolling Fork and vowed he would never forget what he experienced.
More footage from Zachary Hall: