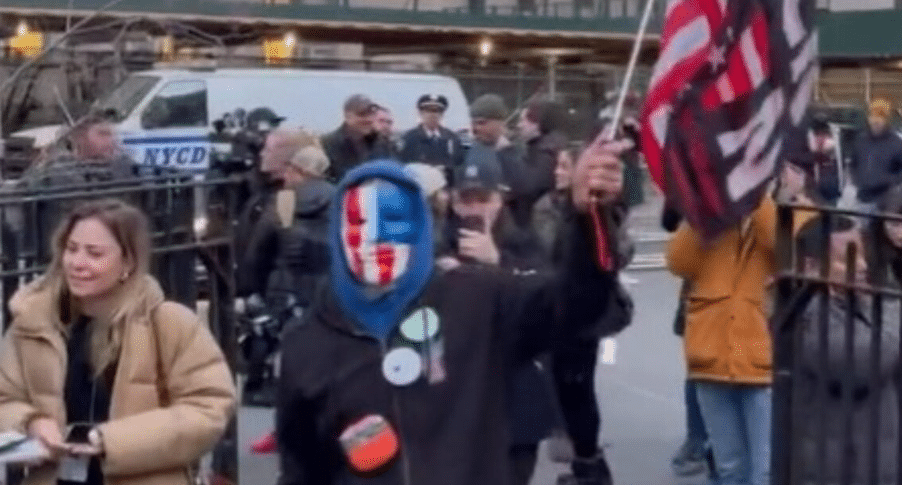 Shortly after Trump called for his supporters to protest in the event he is arrested, dozens of Trump supporters gathered outside of the Manhattan Criminal Court where Trump is expected to be arraigned.
Many of the protestors wore red MAGA hats and waved American and FJB flags.
Watch:
Even though Trump called for protests, many Conservatives have advised Trump supporters not to attend due to the events likely being J6-style false flags.
ABC News reported:
President Donald Trump's calls for protests before his anticipated indictment in New York have generated mostly muted reactions from supporters, with even some of his most ardent loyalists dismissing the idea as a waste of time or a law enforcement trap.

The ambivalence raises questions about whether Trump, though a leading Republican contender in the 2024 presidential race who retains a devoted following, still has the power to mobilize far-right supporters the way he did more than two years ago before the Jan. 6, 2021, insurrection at the U.S. Capitol. It also suggests that the hundreds of arrests that followed the Capitol riot, not to mention the convictions and long prison sentences, may have dampened the desire for repeat mass unrest.

Still, law enforcement in New York is continuing to closely monitor online chatter warning of protests and violence if Trump is arrested, with threats varying in specificity and credibility, four officials told The Associated Press. Mainly posted online and in chat groups, the messages have included calls for armed protesters to block law enforcement officers and attempt to stop any potential arrest, the officials said.

Around the time the Manhattan courthouse complex opened Monday morning, a New York Police Department truck began dropping off dozens of portable metal barricades that could be used to block off streets or sidewalks.

The New York Young Republican Club held a small protest in Lower Manhattan on Monday, and incendiary but isolated posts surfaced on fringe social media platforms from supporters calling for an armed confrontation with law enforcement at Trump's Florida estate, Mar-a-Lago.
Watch coverage of Monday night's peaceful protest in lower Manhattan, organized by the New York Young Republican Club via RSBN: