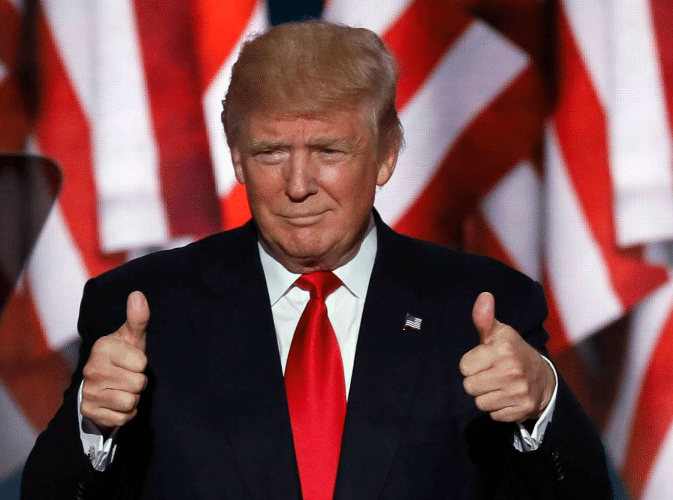 The New York Young Republican Club (NYYRC) plans to hold a protest downtown if President Trump is arrested on Tuesday, according to NYYRC president Gavin Wax.
Trump posted a Truth on Saturday that he expects to be arrested on Tuesday and called for people to protest and "take our nation back."
Trump's Truth Social post:
OUR NATION IS NOW THIRD WORLD & DYING. THE AMERICAN DREAM IS DEAD! THE RADICAL LEFT ANARCHISTS HAVE STOLLEN OUR PRESIDENTIAL ELECTION, AND WITH IT, THE HEART OF OUR OUR COUNTRY. AMERICAN PATRIOTS ARE BEING ARRESTED & HELD IN CAPTIVITY LIKE ANIMALS, WHILE CRIMINALS & LEFTIST THUGS ARE ALLOWED TO ROAM THE STREETS, KILLING & BURNING WITH NO RETRIBUTION. MILLIONS ARE FLOODING THROUGH OUR OPEN BOARDERS, MANY FROM PRISONS & MENTAL INSTITUTIONS. CRIME & INFLATION ARE DESTROYING OUR VERY WAY OF LIFE…

Page 2: NOW ILLEGAL LEAKS FROM A CORRUPT & HIGHLY POLITICAL MANHATTAN DISTRICT ATTORNEYS OFFICE, WHICH HAS ALLOWED NEW RECORDS TO BE SET IN VIOLENT CRIME & WHOSE LEADER IS FUNDED BY GEORGE SOROS, INDICATE THAT, WITH NO CRIME BEING ABLE TO BE PROVEN, & BASED ON AN OLD & FULLY DEBUNKED (BY NUMEROUS OTHER PROSECUTORS!) FAIRYTALE, THE FAR & AWAY LEADING REPUBLICAN CANDIDATE & FORMER PRESIDENT OF THE UNITED STATES OF AMERICA, WILL BE ARRESTED ON TUESDAY OF NEXT WEEK. PROTEST, TAKE OUR NATION BACK!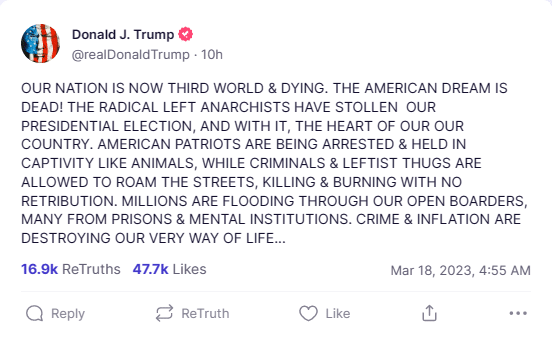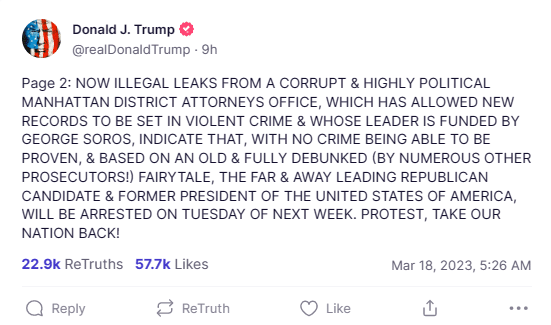 Trump urged people to protest in a follow-up message.
IT'S TIME!!! WE ARE A NATION IN STEEP DECLINE, BEING LED INTO WORLD WAR III BY A CROOKED POLITICIAN WHO DOESN'T EVEN KNOW HE'S ALIVE, BUT WHO IS SURROUNDED BY EVIL & SINISTER PEOPLE WHO, BASED ON THEIR ACTIONS ON DEFUNDING THE POLICE, DESTROYING OUR MILITARY, OPEN BORDERS, NO VOTER I.D., INFLATION, RAISING TAXES, & MUCH MORE, CAN ONLY HATE OUR NOW FAILING USA. WE JUST CAN'T ALLOW THIS ANYMORE. THEY'RE KILLING OUR NATION AS WE SIT BACK & WATCH. WE MUST SAVE AMERICA!PROTEST, PROTEST, PROTEST!!!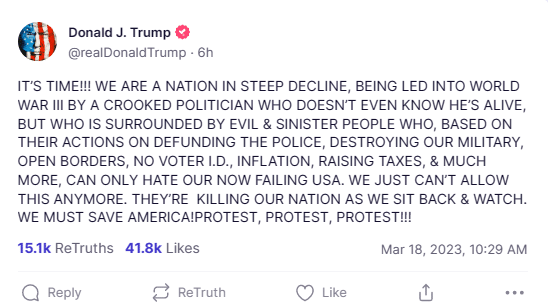 Gavin Wax tweeted that they have a peaceful protest in the works.
If Trump is charged, he will be the first president to be arrested since Ulysees S. Grant, which was also a bogus charge.
From The Daily Mail:
Donald Trump could become the first US president since Ulysses S Grant to be arrested if Manhattan District Attorney Alvin Bagg chooses to indict him on charges relating to a hush money payment to porn star Stormy Daniels.

The 45th president announced today that he is expecting to be arrested on Tuesday by New York authorities after his lawyers paid Daniels a total of $130,000 to keep quiet about their alleged affair.

Trump, 76, has been dogged by legal scandals in recent years, but has never been arrested in connection to any criminality.

He would be the first president to be put into handcuffs since Ulysses S. Grant was pulled over for speeding in his horse and buggy.

The 18th president was pulled over by a police officer in 1876, with officer William West telling him: 'Duty is duty sir, and I will have to place you under arrest.'

A mother and child were reportedly injured by a joyrider, and police discovered the President was among the reckless riders in the area.

Grant was reportedly a 'notorious speed demon' who had previously been warned about his speed – and claimed that he didn't know he was going too fast.

While his buggy did not have a speedometer, it was the second time he was caught racing around the roads in the capital and ultimately paid a $20 to walk free.

Even if Trump is arrested in connection to the payments, he could still run for president and sit again in the White House.

The only rules restricting who can run for the top job are that they are natural-born citizens of the US and over 35.

President Richard Nixon also came close to being arrested amid the infamous Watergate scandal after he conspired to cover up his administration's involvement in the 1972 break-in of the Democratic National Committee headquarters in Washington, D.C.
He is also the current leading contender for the Republican presidential nomination in 2024.