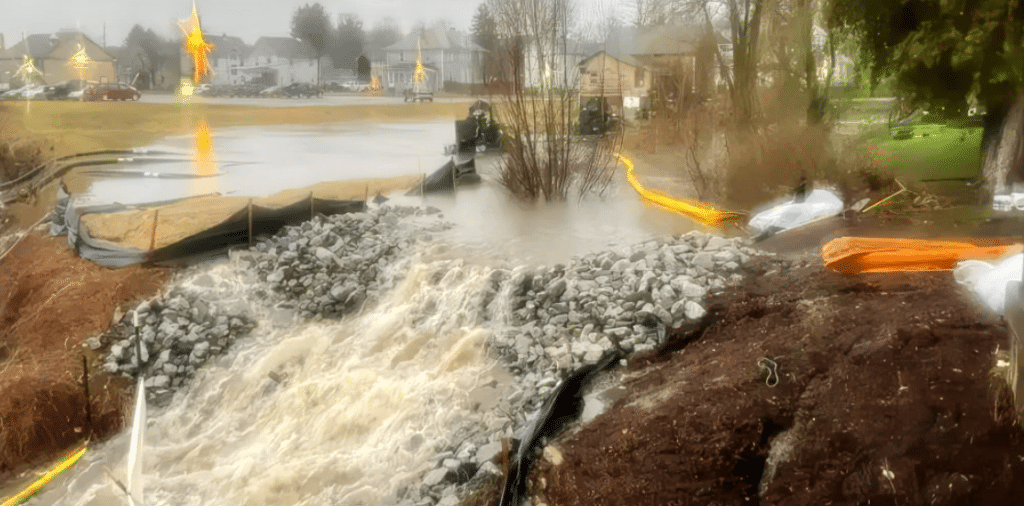 Authorities initially told residents of East Palestine, Ohio that the water was safe to drink and the air safe to breathe.
We have learned that this simply isn't true.
An EPA director told reporters that he would not let his children anywhere near the creeks and streams in the area.
Watch:
East Palestine residents and independent journalists have been sharing the truth of what it's like after the train derailment that led to a large release of toxic chemicals.
To make matters worse, it is now being reported that a temporary "containment dam", designed to prevent toxic water contamination in East Palestine, has overflowed.
19 News reported the recent developments:
EAST PALESTINE, Ohio (WOIO) – A dam designed to prevent toxic water contamination in East Palestine, has failed.

Residents tell 19 News heavy rain has caused Leslie Run Creek to rise, and spill over the makeshift dam, near the derailment sight.

19 News was able to obtain several photos of water from that manmade dam covering the Main Street area of town. Residents fear the contaminated water may seep into homes or businesses – causing another level of fear for those who live in the area.

Eric Cozza tells 19 News he's frightened to think about what this new threat could mean, "I fear that now the chemical is in the ground, it's going to leach towards the water ducts, our aquifer for drinking water. I'm concerned that the park is now contaminated. Kids won't be able to play there or walk through there on their way to school."

Cozza's family has already been diagnosed by a doctor with chemical irritation or rashes on their skin, with the overflow of water Cozza says the odor of chemicals is back in the air again, "I have fear, I've had fear and now this just put the anxiety over the top."

One East Palestine resident on social media said he was warned by a work crew in the area to get away from the overflowing dam, and they called it dangerous.

As for Cozza, he says he doesn't know how much more their community can take, "They made this dam deep enough to pump the water out of the creek. They call them booms, so, it catches the chemicals before it goes further down the creek."

19 News did reach out to East Palestine Fire and a dispatcher said they have not received even one call about a breach in the dam. We also reached out to Mayor Trent Conaway and are waiting for a callback.
From NOQ Report:
Mary McCarron, a public information officer for the Ohio Environmental Protection Agency, tells Pittsburgh's Action News 4 the large pool was a containment dam that "was actually part of mitigation work surrounding the storm." WTAE4, an ABC News affiliate, further reported that McCarron also said no visible waste was released into nearby streams.

"This water is not coming from the derailment site," Thomas A. Crosson, senior director of strategic communications with Norfolk Southern said. "We have purposely dammed this area to raise water levels to allow for aeration. In heavy rain events, those waters can rise and is not a reason for concern."

Residents feel otherwise.