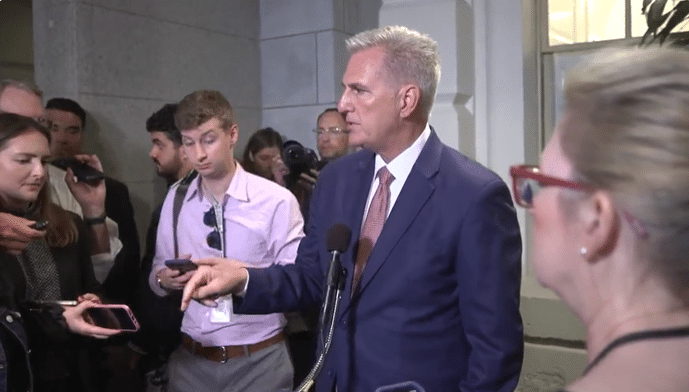 On Wednesday, House Speaker Kevin McCarthy pushed back on the false claims by a reporter that the impeachment inquiry into White House resident Joe Biden "lacks evidence."
Farnoush Amiri, a congressional reporter for the Associated Press, falsely claimed that Speaker McCarthy opened the inquiry "without evidence."
"Since gaining the House majority in January, House Republicans have aggressively investigated Biden and his son, claiming without evidence that they engaged in an influence-peddling scheme. The allegations echo those that former President Donald Trump has made for years against Biden and his family," Amiri wrote in her article.
Despite the approved narrative given to mainstream media outlets by the Biden regime, congressional committees have uncovered bank records, credible whistleblower testimony and thousands of emails written by Joe Biden, under an alias, connecting him to his son's business dealings. Biden has repeatedly claimed that he had no interactions with his son's business associates, despite mounting evidence that contradicts his claims.
During a conversation with reporters on Wednesday, McCarthy cornered Amiri over her false claims, "What impeachment inquiry is [designed] to do is to get answers to questions. Are you concerned about all the stuff that was just recently learned? Do you have any concern? Have you asked the White House any questions?
Amiri replied, "yes."
"Do you believe the president lied to the American public when he said he never talked to his son about his business dealings? Yes or no?" McCarthy followed up. The AP reporter stated that she could not answer that question. McCarthy further questioned her.
Amiri replied that she could not answer that question.
McCarthy proceeded to list numerous instances that connect Biden to Hunter's corrupt business dealings.
"You can't answer that? Do you believe when they said the president went on conference calls? Do you believe that happened?" McCarthy asked. "That's what the testimony says, yes," Amiri responded.
Watch:
AP reported that McCarthy's impeachment inquiry was launched "without evidence." Here's McCarthy forcing an AP reporter to admit that there was lots of evidence to support an impeachment inquiry. pic.twitter.com/lgzU1BNNlE

— Arthur Schwartz (@ArthurSchwartz) September 14, 2023