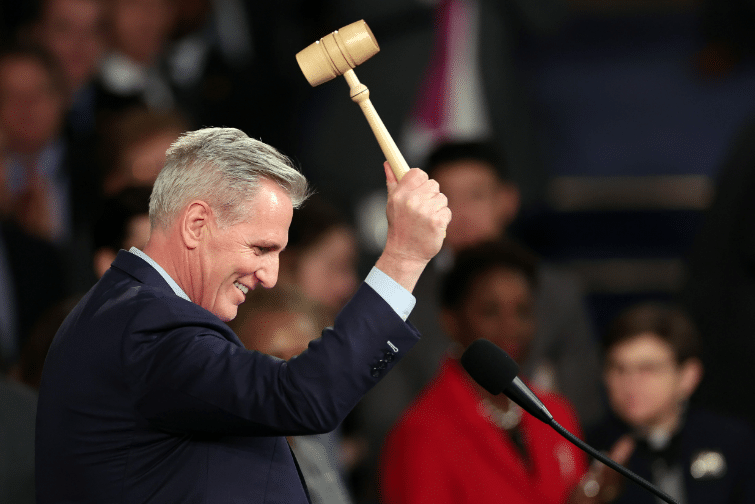 On Wednesday, House Speaker Kevin McCarthy told Breitbart News that he plans to release all of the 40,000+ hours of January 6 surveillance footage to the public.
McCarthy said that his decision to give Tucker Carlson access to the January 6 surveillance footage was all about transparency. He believes that the public should be able to make their own decisions. He also said that certain news organizations, like CNN, get exclusives all the time.
"It is all about transparency. It will just be to Tucker like any news organization. Different people get exclusives. We watched during January 6, CNN would have exclusives all the time," he said.
McCarthy confirmed that it was not just 14,000 hours of footage as previously reported but actually 42,000 hours.
He continued, "I think it's better for transparency that anyone can make their own decision up… and as we walk through these, these are many more hours of tapes than the January 6 committee told us. It's not 14,000, it's 42,000 hours."
Tucker Carlson has released some of the footage he received from McCarthy over the last couple of days. The released footage tells a very different story than the one Democrats and their allies in the mainstream media have been telling us for the past two years.
Watch:
From Breitbart News:
"Yeah," McCarthy said when asked if the tapes will be fully released to the public.

"We just want to make sure we go through them all, and it takes time," he continued. "The first thing that Tucker said too, he didn't want to show any exits to cause any problems. We asked the Capitol Police, 'Were there any concerns?' They came back with one, and we mitigated that, but it was interesting, that one that they had a problem with, Eric Swalwell had had up on the internet for the last two years showing that part."

McCarthy's interview was taped as part of the latest On The Hill video special from Breitbart News, a long-form series of in-depth interviews and specials. He previously sat for one taped in late 2021 and released in January 2022 that laid the foundation for the House Republicans' midterm message. McCarthy, in that special, first detailed the House GOP agenda the "Commitment to America" and made several major promises including that he would remove Reps. Adam Schiff (D-CA) and Eric Swalwell (D-CA) from the House Intelligence Committee and Rep. Ilhan Omar (D-MN) from the House Foreign Affairs Committee if elected speaker. More than a year later, within days of getting elected speaker, McCarthy delivered on those promises and kicked Swalwell, Schiff, and Omar off those committees.

This latest special focuses on several major issues facing the country, including the threats of the Chinese Communist Party, the border crisis, and the debt ceiling. More from the interview will be released in the coming days and weeks. McCarthy's comments about the January 6 surveillance are particularly newsworthy and timely as this was the most in-depth yet he has gone in explaining his rationale for releasing them, and responding to attacks from the media and people like Democrat Senate Majority Leader Chuck Schumer (D-NY) for doing so.

The footage Carlson aired undercut some narratives that the last Congress's January 6 select committee put forward, and those of many in establishment media. For instance, Carlson showed tapes of January 6 protesters inside the Capitol lining up and taking pictures inside—Carlson called them "sightseers" rather than "insurrectionists." What's more, another video Carlson aired shows Capitol Police officers walking around inside the Capitol for several minutes with the now-infamous "QAnon Shaman" Jacob Chansley and even trying to help him open locked doors. McCarthy, when he became speaker of the House just about two months ago, provided Carlson with access to several of these tapes in the interest of transparency. But McCarthy told Breitbart News that Carlson just got the first bite at the apple and that these videos will be released more broadly in the coming weeks as sensitive security information is removed.

"Well this is all about transparency," McCarthy said when asked why he released the tapes. "It won't just be to Tucker. Like any news organization, different people get exclusives. We watched during the January 6, CNN would have exclusives all the time and nobody complained. CNN actually got to be in Statuary Hall for a whole hour for their own show. You've watched that January 6 would release only certain tapes. I think it's better for transparency that anyone can make their own decision up, and as we walk through these, these are many more hours of tapes than the January 6 committee told us. It's not 14,000. It's 42,000 hours. We want to make sure for security purposes our certain exits aren't shown and others. But you know the most interesting thing, when I had the team talk to the Capitol Police about making sure they had no problems with the exit and so on, they said January 6 never asked them that. They showed the exit of the vice president. They showed the exit from my office. They literally had then Speaker Pelosi's daughter showing the secure location that they take the leadership. That's not supposed to be known to anybody, and CNN reported it, and I don't remember the press ever getting upset with that. So what we want to do is make sure we have this out that everybody can see it."
Watch: