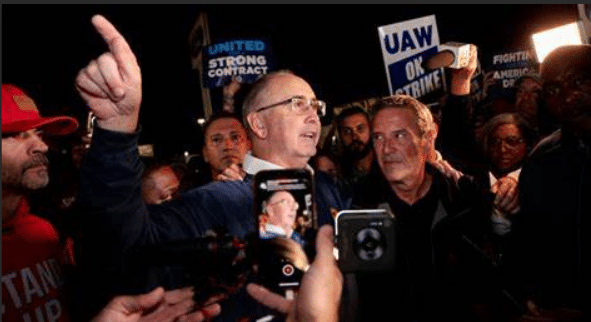 Unions at the three largest automotive companies in the United States are preparing for their first-ever strike, protesting unmet demands for higher wages and the establishment of a "jobs bank" to provide compensation to terminated employees with limited work responsibilities.
The United Auto Workers (UAW) made this announcement at midnight when negotiations with General Motors, Ford, and Stellantis failed to result in an agreement regarding a proposed 36 percent pay increase for all employees over four and a half years. Union representatives argued that this wage hike is warranted, citing a similar increase in compensation for company executives. They rejected an offer of half that amount. As a result, nearly 13,000 workers, equivalent to approximately 10 percent of the combined workforce of these companies, will begin picketing.
The UAW Stand Up Strike begins at all three of the Big Three.#StandUp pic.twitter.com/WsUdPt0or5

— UAW (@UAW) September 15, 2023
At the heart of this dispute lies a conflict between workers who are accustomed to the demands of traditional gas-powered vehicle assembly lines and companies now placing greater emphasis on electric vehicles in compliance with federal government mandates. With the expansion of electric vehicle production, the requirement for assembly line workers has diminished, prompting union leaders to scramble in their efforts to protect jobs that are at risk.
Among the UAW's demands are requests for a reduced work week of 32 hours with compensation equivalent to a 40-hour workweek, the reinstatement of traditional defined benefit pension plans in place of the current 401(k) system, pension adjustments for retirees, various cost-of-living increases for current employees, and the establishment of a jobs bank to retain staff who may otherwise be without employment.
On Thursday, GM CEO Mary Barra penned a letter to union leaders, underscoring the commitment of company executives to continue negotiations and address the priorities raised by the union, despite the strong language used by UAW leadership.
During a Thursday appearance on CNBC, Ford CEO Farley emphasized that if Ford had agreed to the union's demands, the company would have incurred a $15 billion loss over the past decade, potentially leading to bankruptcy.
Leaders like Barra and Farley argue that if America's largest automotive companies were to concede to all of the union's demands, the cost of domestically manufactured electric vehicles would significantly surpass the prices of more affordable foreign models.
night shift is leaving the plant at GM Wentzville, with jubilant honks, the UAW strike has begun!! pic.twitter.com/WHQ7Ms1HQa

— keith bb (@TRAILSANDWAYS) September 15, 2023
White House Joe Biden has offered little support for auto unions as he has caved to environmentalists who demand that the nation's newest cars be electrified.
His lack of support has not gone unnoticed by the auto unions.
"UAW members feel abandoned by the Democratic Party," former UAW President Bob King told Politico this week, noting the Democrat majority's continued support for job-killing free trade as well as Biden's Inflation Reduction Act (IRA) which is handing out billions in taxpayer subsidies to auto companies and their top line.